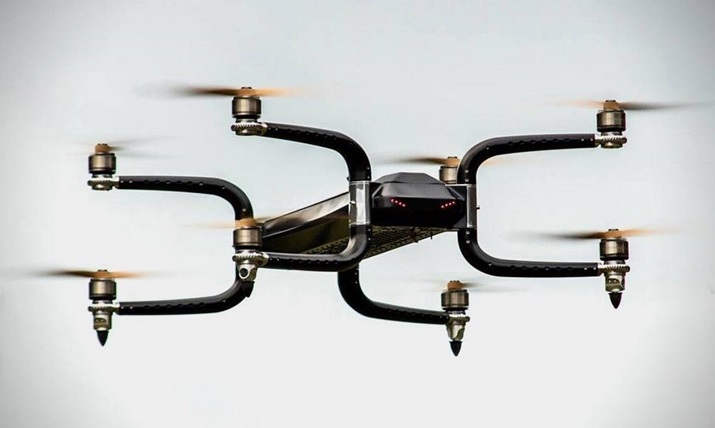 A super heavy-lift drone that will be manufactured at the new Griff plant in Florida. Source: Griff AviationGriff Aviation North American will open a new assembly plant for its heavy-lift unmanned aerial vehicles (UAVs) capable of carrying hundreds of pounds.
Initially, the assembly plant, which will be located at Lakeland Linder Regional Airport near Tampa, Florida, will build around six drones a week for distribution in North America. Griff has plans to increase the capacity dramatically as needed, and is currently working on a drone that can lift nearly one ton.
Used in American industrial, agricultural and military markets, Griff plans to produce four basic airframes that can be attached to 20 different accessory packages. The heavy-lift drones can run from 20 to 45 minutes depending on the payload weight and flight times can be extended to more than one hour with added battery packs and a lesser payload.
Griff says the drone will soon be the first commercial UAV to be certified by Europe's European Aviation Safety Agency (EASA) and Civil Aviation Authority (CAA) and will soon be certified with the Federal Aviation Administration (FAA). Griff says the FAA will soon announce major changes in regulation for drones weighing more than 55 pounds that will accelerate the use of these drones in commercial and industrial markets.
"The commercial heavy-lift drone is the next big worldwide technology explosion once regulations can be worked out governing the industry," says Leif Holand, CEO of Griff. "It's inevitable and we feel that the United States market will lead world demand." The drones will be assembled in the U.S. from technology and components supplied by Griff Aviation's parent company, Griff Aviation of Alesund, in Norway.
Some of the applications for the heavy-lift drones include construction, movie production, agriculture, search and rescue, law enforcement, civil service, fire services, cargo deliver, man overboard rescues and military and defense.
Griff's UAVs will be priced from about $250,000 and up, depending on the customer requirements, and the drones will come with a ballistic parachute in case of an error.
Griff will be debuting its drones and taking pre-orders during the XPONENTIAL drone show taking place May 8-11 in Dallas, Texas.