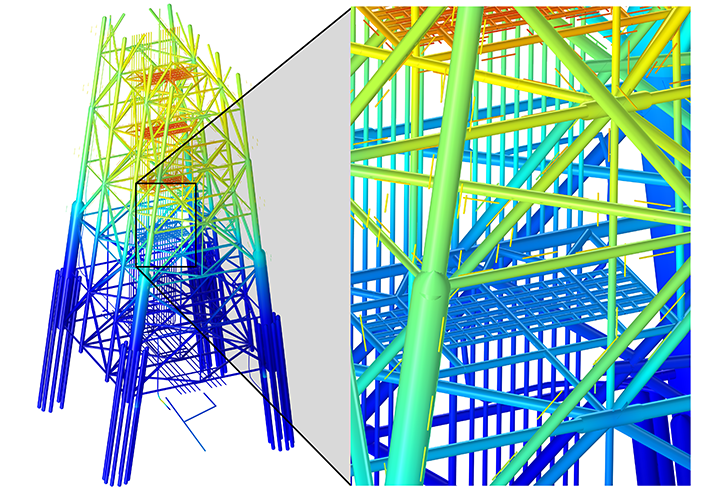 Numerical simulation of the electrochemical potential distribution along an oil rig in sea water using the Boundary Element method (BEM).
COMSOL, Inc., a provider of software solutions for multiphysics modeling, simulation and application deployment, has announced a major release of its COSMOL Multiphysics and COMSOL Server products.

Version 5.3 is designed to increase research and design throughput by providing faster model and app development, shorter solution times and new physics. It also offers new modeling and development tools, solvers and user-driven features.

Some examples of improvements in the new release:
The boundary element method, or BEM, is available for modeling electrostatics and corrosion effects; combining boundary element and finite element methods means greater flexibility in multiphysics simulations, according to Svante Littmarck, COMSOL's president and CEO. Typical uses for this functionality include the modeling of electrical cathodic protection, cables or capacitive sensors.
A new algebraic multigrid (AMG) solver, requiring only a single mesh level, benefits users handling large computational fluid dynamics (CFD) models. It offers a robust simulation process for problems such as fluid-structure interaction in a solar panel.
The Model Builder makes it easy to automate repetitive operations. COMSOL's VP of Product Management, Bjorn Sjodin, notes that a user "can now simply record a set of operations, like a macro, and use the resulting method while setting up or solving a model." Applications for this feature include creation of a reusable model method to generate a complicated array of geometric objects.
More than 50 new and updated tutorial modes — spanning several areas, from permanent magnet motors, cables and horn antennas to supersonic flows, electronics cooling, gearbox vibration and noise — are available in the Applications Libraries feature.
The Application Builder allows simulation specialists to create apps based on their multiphysics models. Customized actions can be defined for clicking on plots in graphics objects, enabling the creation of interactive apps. The apps interface can be customized and accessed via browser or Windows client connected to a local installation of COMSOL Server, which can then be employed for centralized cluster administration.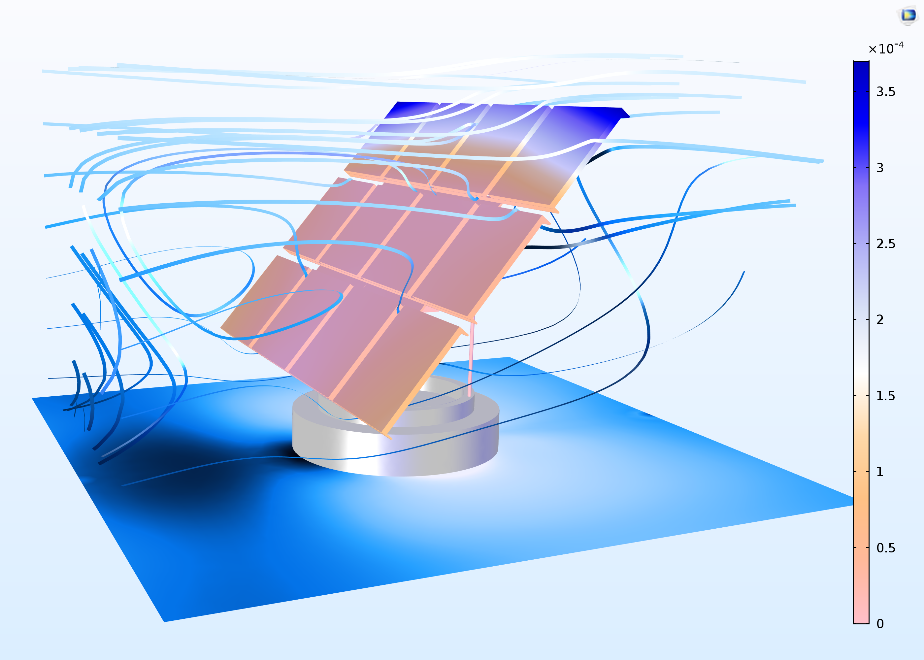 A new algebraic multigrid (AMG) solver offers a robust simulation process for problems such as fluid-structure interaction in a solar panel.
Capacitor manufacturer Cornell Dubilier, for instance, uses COMSOL products to create models and build apps based on them; COMSOL Server is then used to deploy computational apps to engineers at different sites around the world. "This allows other departments to test different configurations for their particular requirements and pick the best design," notes Sam Parler, the company's research director.
To browse version 5.3 release highlights, click here.
Images used in this article were made using COMSOL Multiphysics software and provided courtesy of COMSOL.