Flexible electronics is revolutionizing the electronics industry for consumers, medical industry and general industrial applications. This technology uses especial materials such as polyimide, PEEK or some type of conductive polyester. Generally the materials used in flexible circuits (or simply flex circuits) are used as conductor structures to connect integrated circuit components such as transistors, OLED's, resistors, and others. The most important two attributes for a good material for flex circuits are high electrical conductivity and high torughness, so the material will not deteriorate easily.
Recently a group of researchers at the University of Illinois College of Engineering have developed a type of textile made of thin carbon nanotubes (CNT) that is highly conductive and has a toughness that is about 50 times higher that current copper films used nowadays. Carbon nanotubes are tiny cylinders of graphene with a diameter of few nanometers (nm) – this is about 1,000 times thinner than a human hair. Even with size, CNT are much stronger that steel of carbon fiber, more conductive than copper and lighter than aluminum. However, to assemble and weaving nanotubes to create a particular structure is very difficult given their sizes and the difficulty in controlling their geometry.
"The structural robustness of thin metal films has significant importance for the reliable operation of smart skin and flexible electronics including biological and structural health monitoring sensors," explained Sameh Tawfick, an assistant professor of mechanical science and engineering at Illinois, and one of the researchers.
"Aligned carbon nanotube sheets are suitable for a wide range of application spanning the micro- to the macro-scales including Micro-Electro-Mechanical Systems (MEMS), supercapacitor electrodes, electrical cables, artificial muscles, and multi-functional composite," he said. "To our knowledge, this is the first study to apply the principles of fracture mechanics to design and study the toughness nano-architectured CNT textiles. The theoretical framework of fracture mechanics is shown to be very robust for a variety of linear and non-linear materials."
"The study of the fracture energy of CNT textiles led us to design these extremely tough films," said Yue Liang, a former graduate student with the Kinetic Materials Research group and lead author of the paper, "Tough Nano-Architectured Conductive Textile Made by Capillary Splicing of Carbon Nanotubes," which appears in Advanced Engineering Materials.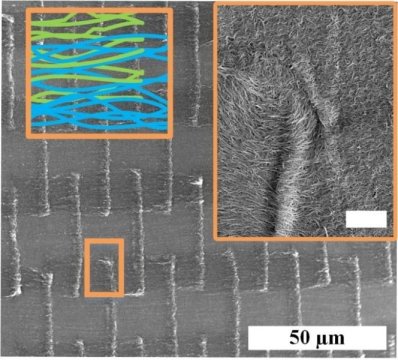 Scanning Electron Microscope Images of architectured. Credit: University of Illinois.
"This work combines careful synthesis, and delicate experimentation and modeling," Tawfick said. "Flexible electronics are subject to repeated bending and stretching, which could cause their mechanical failure. This new CNT textile, with simple flexible encapsulation in an elastomer matrix, can be used in smart textiles, smart skins, and a variety of flexible electronics. Owing to their extremely high toughness, they represent an attractive material, which can replace thin metal films to enhance device reliability."
The result of the research was published by Advanced Engineering Materials, and can be found here.