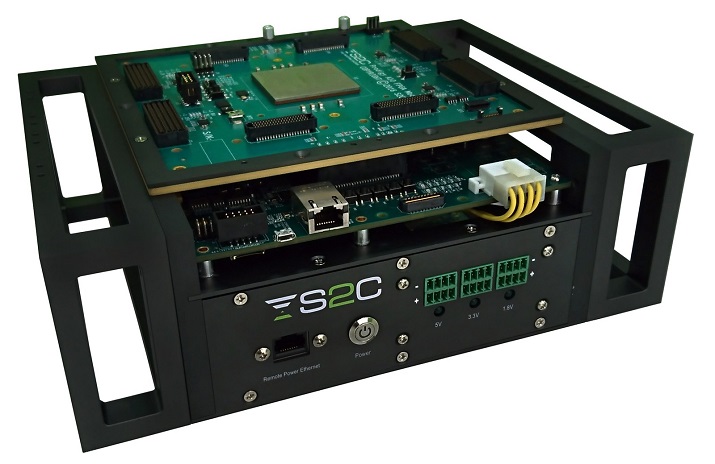 The Prodigy A10 logic module. Image credit: S2C
S2C Inc. has introduced a single prodigy field programmable gate array (FPGA) logic module based on Intel's Arria 10 1150GX FPGA.
Suited for prototyping small- to medium-sized system-on-chips (SoCs), the A10 single logic module offers what S2C claims is the lowest profile enclosure on the market and fits all components, including the FPGA board, extendable power control module and power supply in a single unit.
The module also includes a library of daughter cards that allows designers to build prototype targets quickly. The flexible extensions on the module attach to the system without increasing the physical profile of the system or intruding on other parts of the logic module, S2C says.
The design is 220 mm by 275 mm by 94 mm and features an open-concept enclosure for easy access to components, the company says. The module features a large capacity and scalability with 1,150 logic elements, 53Mbs of M20K memory and 3,036 DSP resources. It also includes 48 gigabit transceivers that can run at 16Gpbs and 576 high-performance I/Os.
The module is available now.