Acromag's new XMC-7A50-AP323 provides a user-customizable Xilinx Artix-7 field-programmable gate array (FPGA) with 48 TTL I/O channels plus a 16-bit analog-digital converter for 20 differential or 40 single-ended analog inputs on an XMC module. Other custom I/O interfaces with an FPGA on one XMC module are available by request.
These high-performance modules are for embedded applications running on Linux, Windows or VxWorks operating systems. XMC-7A50-AP323 modules begin at $2,750 each along with a recommended one-time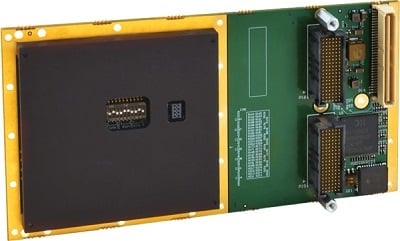 Source: Acromagpurchase of $360 Engineering Design kit software.
The XMC-7A50-AP323 offers a wide operating range of -40° C to 70° C and conduction cooling options. The FPGA digital I/O offers 32 Mb quad serial flash memory with 52,160 logic cells. Reconfiguration of the FPGA is possible via a direct download into the Flash configuration memory over the PCIe bus. The high-density general-purpose input/output initially supports transistor–transistor logic but can also accommodate low-voltage differential signaling and RS422/485 signals. Flexible A/D conversion allows configuration of analog input voltage ranges, scanning modes and interrupts.
Designed for commercial off-the-shelf applications, these XMC modules are RoHS compliant and ideal for scientific development labs, military and aerospace applications, the defense industry, and automation applications.