Altair has put out the call for engineering students worldwide: register to participate in the 15th annual FEKO Student Competition. The 2017 competition seeks under-graduate and post-graduate students who have worked on a supervised project in electromagnetic (EM) engineering using FEKO, Altair's comprehensive EM analysis software suite.
Students participating in the competition will have the opportunity to showcase their work with FEKO and receive international recognition from industry leaders and fellow students. Prizes are a state-of-the-art laptop computer or the attendance to an Altair ATC or ATCx, conference series, which are hosted around the world each year. The winner will also have the opportunity to host a webinar to present their project, exposing them to a much larger audience. This year for the first-time entries in Chinese and Japanese will also be accepted.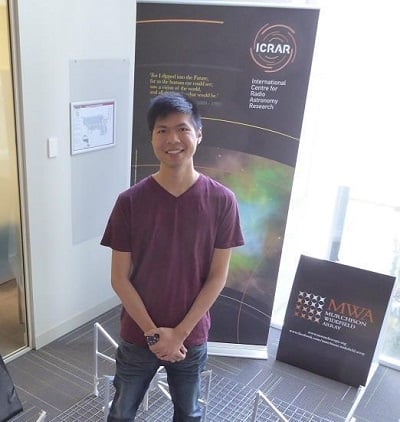 Daniel Ung from Curtin University/ICRAR in Australia, the winner of the 2016 FEKO Student Competition. (Source: Altair Engineering Inc.)Daniel Ung, a Masters student from Curtin University in Perth, Australia, was thrilled to hear the news that he was declared the 2016 winner.
"Working on this project was challenging and rewarding at the same time. I have developed an appreciation of the amount of 'behind the scenes' work that enables radio astronomy to deliver ground breaking science," he said. "I hope the next generation of low-frequency telescope such as the Square Kilometre Array will benefit from my project."
Mr. Ung's winning entry, entitled Embedded Element Pattern Beam Model for Murchison Widefield Array addressed the need for an accurate yet accessible beam pattern of the Murchison Widefield Array for astronomers.
The competition is being launched through the Altair academic website. The competition is being launched through the Altair academic website. Students can register for the competition now; the deadline for entries is Oct. 31 2017.