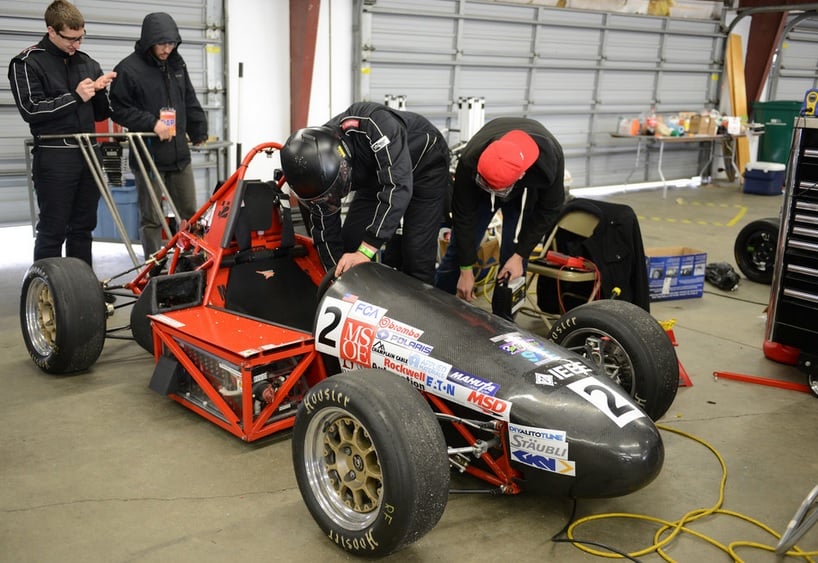 Mozee Motorsports from the MSoE. Image credit: Thayer School of EngineeringEarlier this month, 19 student engineering teams gathered at Dartmouth College in New Hampshire for the Formula Hybrid Competition. The competition pits hybrid and electric vehicles that have been assembled by teams of student engineers over the past 10 months through various engineering and safety tests before the vehicles are race tested at New Hampshire Motor Speedway.
The Formula Hybrid Competition has been held every year since 2006 and is unique in the fact that it has two competition fields, hybrid and electric. Similar events typically focus on electric-only vehicles. This year's competition drew teams from the United States, Canada and India, including a team composed entirely of female engineering students from the Rochester Institute of Technology.
Mozee Motorsports, from the Milwaukee School of Engineering, was this year's hybrid category winner. Mozee's entry was not only the fastest hybrid in competition history, but was also the only hybrid to ever complete the competition's 44 km endurance race. Meanwhile, RIT's all-female Hot Wheelz team won the electric-only category and also claimed this year's top overall score.
The competition is arguably more engineering oriented than it is focused on racing. The teams must begin planning a new vehicle or upgrading their current vehicle almost a year in advance. The competition requires documentation submissions in the months leading up to the event, including a structural equivalency spreadsheet, project management plan, electrical layouts, failure modes and effects analyses, design and sustainability reports and more. Incomplete documentation results in a score penalty during the competition.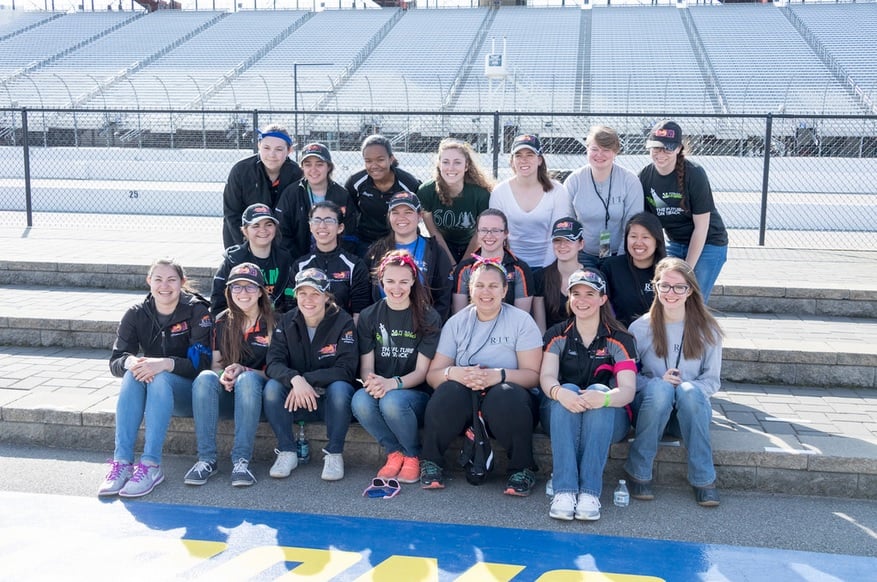 The RIT Hot Wheelz engineering team. Image credit: Thayer School of EngineeringEarly each May, competitors and their vehicles assemble at Thayer School of Engineering at Dartmouth, where the cars are independently reviewed by automotive and motorsport experts for engineering acumen. The teams must also give a presentation to a review board about the project's scope and challenges and the manufacturing techniques and skills the team required. Only those projects that satisfy the competition officials' safety concerns are given clearance to run on race day.
Race day features three events. Acceleration, which measures a hybrid's straight line speed from a standing start to a finish line 75 meters away. (Electrics do not compete in the acceleration race.) Autocross, which gauges the handling and overall performance of the vehicle on a winding race track. And the endurance portion, where vehicles must complete 44 laps around the 1-km-long road course at NHMS with a predetermined amount of charge and liquid fuel.
The Formula Hybrid Competition is part of the Formula SAE Collegiate Design Series, which challenges student engineering teams to design alternative drivetrain technologies and then manufacture and race them. SAE is a leading sponsor of the program, as is IEEE, Ford, Fiat Chrysler Automobiles, General Motors and others.