What driver wouldn't want to know the location of the nearest vacant parking spot? The parking industry may soon be revolutionized with the help of Penn State researchers and drones.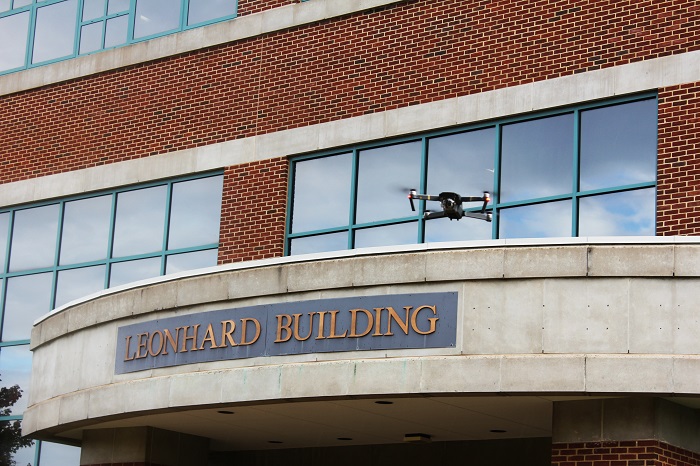 The researchers' drone shown hovering above Penn State's Leonhard Building.
Researchers with the Service Enterprise Engineering (SEE) 360 initiative at Penn State have created a drone-enabled system called SmartPark, which locates the nearest available spot in real time and alerts drivers through a mobile app.
SmartPark not only aims to help drivers quickly and efficiently find parking, but it also intends to reduce possibility of conflict or altercations between drivers in parking lots. Furthermore, the implementation of this technology will further automate these lots and lessen the need for paid employees.
Developed by three industrial engineering graduate students who are members of a Service Engineering Academic Learning (SEAL) team, the solution can help smooth the flow of traffic, reduce emissions, streamline the parking facilities as well as quickly identify parking infractions. The SmartPark program was awarded first place in the master's degree category of the annual SEE 360 student competition held by the student chapter of the Institute of Industrial and Systems Engineers. Their idea then progressed to the finals of Startup Week at Penn State, an annual university-wide gathering that attracts many top minds in entrepreneurship and innovation.