Aerospace
RFMates Ultralite Cable Lightens the Load
04 April 2018
Sponsored content
Losing weight can be a tough task, especially in the aerospace sector. Lightweight components reduce materials costs and improve fuel efficiency, twin goals for aircraft designers and manufacturers. Specialized wire and cable solutions that support fast data transfer rates are essential to support advanced cockpit displays, next-generation in-flight entertainment systems and other data-centric architectures in modern avionics.
Keeping an aircraft's weight within its design specification is often a challenge for airframers, not just in forward-fit, but in retrofit as well. A pound saved in wiring is a pound that can be used for increasing payload and decreasing fuel consumption. New manufacturing techniques and materials are leading the way to lighter and more capable wires.
Whether commercial or military, aircraft feature anywhere from 70 to 300 miles of wire on average, pointing to the continual need to cut weight and material costs. When developing the 787, Boeing used a lightweight, efficient cable replacement, managing to cut the length of wiring to between 60 and 70 miles — about 25 miles less than the 767 — to gain fuel efficiency and performance benefits.
In 2009, the aviation industry committed to an average improvement in fuel efficiency of 1.5 percent annually through 2020. In order to help customers achieve the requirements, PIC Wire & Cable has continually developed lighter-weight components. For RF coaxial cable used in navigation, collision avoidance and satellite communications systems, PIC Wire & Cable offers its lightest-weight, lowest-signal-loss solution to date.
The RFMates Ultralite line has been engineered as the next generation of lightweight, 50-ohm RF cable. The four new product offerings deliver cable weight savings over competitor cables and can save up to 81 percent in weight over similar Radio Guide (RG) cables. The RFMATES Ultralite cables use either an expanded, extruded PTFE dielectric or tape-wrapped PTFE dielectric, which affords a higher velocity of propagation (VoP) while still maintaining a strong composition. The high VoP lowers the insertion loss of the cable, saves weight and increases flexibility.
PIC Wire & Cable is a trusted name in aerospace component development. When a leading airframe required 809.1 feet of cable per helicopter, the manufacturer sought help shedding some of the 59.06 pounds of existing cable weight. With the expertise of PIC, a total weight savings of 30.24 pounds, translating into a 51.2 percent lighter component load, was realized by installing 28.2 pounds of Ultralite cables.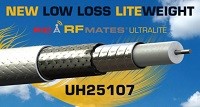 Figure 1. Source: PIC Wire & CableThe newest cable developed by PIC Wire & Cable is the PIC UH25107, which is 81 percent lighter than RG211. This flexible 50-ohm cable is ideal for systems that have a low decibel-loss budget for antenna runs, such as Satcom and Iridium systems. UH25107 has a silver-plated, copper-clad, aluminum center conductor and outer braid, and features a spiral (helical) wrap, silver-plated, copper inner shield to provide shielding effectiveness (RF leakage) down to -110 dB min.
The UH67163 cable incorporates the same features and benefits which is more than 30 percent lighter than cables of similar size and 80 percent lighter and with lower loss than RG393. It is laser-markable, easy to terminate and easily assembled in the field. Other members of the PIC RFMates Ultralite family include UH22089, which is 30 percent lighter than cables of similar size, and UH44193, which is 56 percent lighter with significantly lower loss than RG400/142.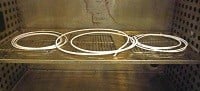 Figure 2. Ultralite cables undergoing aging stability tests. Source: PIC Wire & CableAll Ultralite cable and connectors pass rigorous electrical wiring interconnect system (EWIS) testing, including stress crack, aging stability, cold bend, immersion, flammability, and smoke and toxicity testing per Boeing and Airbus standards, as well as vibration, shock, thermal shock and many more tests to ensure that the cables and connectors are robust enough for rugged aerospace and defense use. A concentrated load test per MIL-T-81490 that demonstrated Ultralite cables have better compressive resistance compared to similar-sized cables. All of this is possible in a cable that contributes to weight savings, as well as financial savings.
Learn how PIC Wire & Cable can lighten your engineering design load today.
PIC Wire & Cable is a division of The Angelus Corp. @AngelusCorp
Find Free Electronics Datasheets