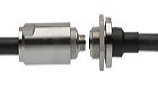 Molex has introduced its 
Brad® Micro-Change® M12 Heavy-duty Ethernet Connector System
 – reportedly the first M12 system to comply with the SAE J2839 heavy-duty, high-speed datalink standard. Category 5e compliant for 10/100 megabits per second Ethernet speeds, the connector system meets the needs of commercial vehicle and off-highway machine manufacturers seeking M12 Ethernet solutions for extremely harsh environments.
The SAE J2839 standard defines the performance requirements, size and mating interfaces for M12-style 4-pole heavy-duty, high-speed data-link connection systems for use in harsh environments with wide temperature variations. Both HDM12 and HDM12EX receptacle and cordset options are available – supporting 444N (HDM12) or 1334N (HDM12EX) of pull force resistance – 10 times stronger than industry standard M12 connectors. They also withstand a wide operating temperature range of negative 55 to positive 125 C.
Backward-compatible with Brad Micro-Change M12 connectors, the connector system simplifies the upgrade process to the heavy-duty standards and complies fully to IEC 61076-2-101 standards. The stainless steel impregnated overmold material assures 360 degree shielding effectiveness, optimizing signal performance without system noise interference. The sealed connector system is IP67 and IP69k compliant, sealing against water at depths up to one meter and withstanding high-pressure wash downs.