University of Glasgow researchers are working with photonics technology company M Squared (Glasgow, Scotland) to develop an infrared imaging system for low-cost, real-time detection of methane gas leaks in pipelines and at oil and gas facilities. The system captures videos of methane gas leaking from a tube at about 0.2 l/min. The technology could also be expanded to other wavelengths or ranges of wavelengths, allowing the detection of a host of gases and chemicals.
The imaging system includes active hyperspectral imaging technology from M Squared and a single-pixel camera developed by the university researchers. Relative to available methane gas monitoring systems, the new equipment could offer a less inexpensive and sensitive way to detect gas under a variety of environmental conditions.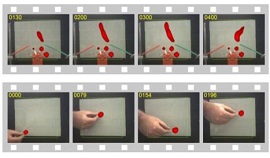 Movie frames from a low-resolution (16x16) computational image of a gas leak, overlaid onto a high-resolution color image from a CMOS camera. Only the methane gas is detected (red), when 0.2 l/min of methane are delivered via the green tube and 2 l/min of nitrogen are delivered from the red tube. (Credit: Graham M. Gibson, University of Glasgow)The single-pixel camera, which measures the light scattered from a site, is crucial to the system design architecture because traditional cameras with millions of pixels are either unavailable or prohibitively expensive in the infrared wavelengths. The new system doesn't use any scanners or other moving parts, lending itself to portability.
Hyperspectral imaging is performed by projecting a series of infrared light patterns onto the scene using a laser wavelength that is absorbed by methane. These patterns are created with a laser and a digital micromirror -- a tiny device with hundreds of thousands of moving mirrors. An image showing where methane has absorbed the light is reconstructed by detecting the light that scatters off the scene and computationally comparing it to the original projected patterns.
The system was demonstrated to image methane gas leaking from a tube about 1 m from the camera with a video-rate imaging speed of approximately 25 frames/second. Sensitivity to methane, even in the presence of other gases, was also confirmed.
Trials in real-world scenarios are planned, as is incorporation of more powerful lasers, which might allow imaging from a greater distance and increase detection sensitivity. With the use of broadly tunable laser sources, applications could expand to the detection of chemical warfare agents or biologically important materials used in healthcare.