Methane, a powerful greenhouse gas, is released into the atmosphere by a combination of human and natural sources such as landfills and glaciers. According to the United States Environmental Protection Agency (EPA), "Pound for pound, the comparative impact of CH4 on climate change is more than 25 times greater than CO2 over a 100-year period."
A Canada-based company called Telops has developed a camera that can detect methane leaks and emissions and film them in real time.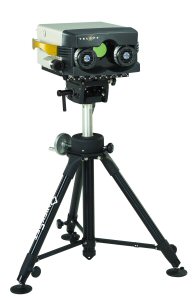 The Hyper-Cam Methane. (Source: Telops)"It is so critical to be able to detect in a simple and efficient manner the exact location from which they emanate," says Martin Chamberland, Telops' vice-president. Using the Telops Hyper-Cam Methane, scientists can detect and identify methane present and to locate it precisely in an image or video, pixel by pixel.
Recently Telops worked with scientists from Linköping University, in Sweden,to film methane emissions in real-time - a breakthrough that could play a significant role in the fight against climate change. After using the camera, the scientists found that it can detect and identify extremely small amounts of methane, up to 1 ppm (part per million). According to Magnus Gålfak, the Linköping University professor who led the study, this high level of sensitivity is what makes such a big difference in detection. "Being able to measure on a small scale is crucial," says Gålfak.
The team found that the camera can be used to measure emissions from many environments including sewage sludge deposits, combustion processes, animal husbandry and lakes. For each pixel in the image the camera records a high-resolution spectrum, which makes it possible to quantify the methane separately from the other gases. Their results were published last week in the prestigious journal Nature Climate Change.
Since the Hyper-Cam Methane is compact and lightweight compared to other hyperspectral cameras available on the market, scientists can use it on-site – in hard-to-reach areas, or to view vast areas from the same image. Hyper-Cam Methane's airborne platform reduces and compensates for aircraft vibrations and yaw, so it is possible to map methane emissions of an entire region from the air.