Volvo Cars is urging governments and fellow car makers to begin sharing traffic safety data in order to improve global safety and to enhance autonomous driving features in future vehicles.
Volvo says that sharing of data in real time can provide a boost to overall traffic safety while safeguarding the privacy or individual road users. Volvo began sharing traffic safety data in collaboration with local authorities in Sweden and Norway two years ago.
The system that Volvo created shares anonymized information about road friction from its anti-skid system and is transferred in real time to other Volvo drivers notifying them of icy road conditions in Sweden and Norway.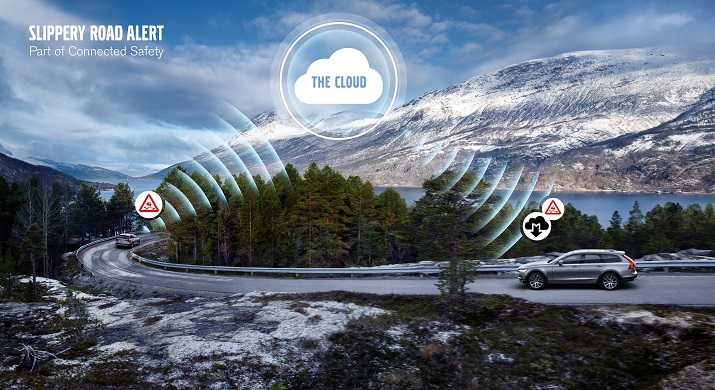 Volvo's shared traffic information system established in Sweden and Norway shares information about road conditions with other Volvo cars. Source: Volvo "We think this type of data sharing should be done for free, for the greater good and to the wider benefit of society. It saves lives, time and taxpayer money," says Håkan Samuelsson, president and CEO of Volvo. "I call on other car makers and governments to work with us on realizing this type of data sharing as widely as possible."
The same system developed by Volvo also warns drivers when another vehicle turns on its hazard lights, which indicates a potential dangerous situation on the road ahead. Putting safety systems in place that are connected to the cloud and shares information with other cars on the road is considered one of the important frameworks for autonomous vehicles.
Volvo's plan is to launch its first autonomous vehicles in 2021 at Level 4 self-driving capabilities—which means the car will be unsupervised on applicable roads and will be able to manage emergency situations without driver interaction. Samuelsson says those developing Level 3 autonomous vehicles will still need driver interaction in case of emergency which could lead to unsafe conditions, expressing concern about those not developing full autonomous features.