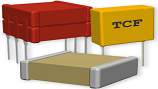 Exxelia Technologies ceramic capacitors incorporate C48X dielectric material. Source: Exxelia Technologies. New Yorker Electronics is now distributing ceramic capacitors with the new C48X dielectric material from Exxelia Technologies. These high-power capacitors have very low heat dissipation, making them well-suited for aircraft, defense and space.
The brand new C48X material combines most of the advantages associated with NPO and X7R dielectrics, enabling the new high-power and high-frequency ceramic capacitor range to provide great stability in voltage – meaning no more need to compromise between stability and capacitance. They also deliver high capacitance, a great dissipation factor and fast charge/discharge.
Compared to X7R material, C48X dielectric supplies the same capacitance values under working voltage with the unrivaled advantage of a very low dissipation factor (less than 5.10-4). It can also withstand very high dV/dt, up to 10 kilovolts per microsecond, which suits it for pulse and fast charge/discharge applications or firing units.
Driven by industry demands for miniaturization, Exxelia Technologies' capacitors based on the C48X material have been developed from 200 volts to 5 kilovolts with chip sizes ranging from 1812 to 16080, allowing a maximum capacitance value of 10 microfarads, 200 volts (10 times more than with an NPO ceramic). The standard stacked versions are proposed with a maximum capacitance value of 47 microfarads, 200 volts. They are available as chips, with DIL connections & ribbon leads, as stacked capacitors, and with radial leads.
Many mounting configurations are possible with either surface or through-hole mounting. All versions can be suitable for space use and can be designed in order to avoid any whisker growth risk.