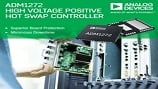 ADM1272, +48V hot swap controller and PMBus™ power monitor. Source: Analog Devices Analog Devices, Inc. (ADI) has introduced the ADM1272, a +48V hot swap controller and PMBus™ power monitor. Designed for high-voltage system control up to 80 V, the ADM1272 provides reliable plug-in board protection in mission critical systems, such as servers and communication equipment.
Advanced system control and board power monitoring provide superior protection against system faults and system resets from transients up to 120 V, which minimizes system downtime and maximizes availability of the system across all conditions. Overall system reliability and MOSFET protection are dramatically increased with the ADM1272's adaptable Safe Operating Area (SOA) protection feature. SOA protection also enables the use of MOSFETs with a smaller form factor and lower cost than traditional hot swap controller solutions. A PMBus digital interface that provides the system with real time telemetry and fault status information.
The ADM1272 hot swap controller accommodates supply voltages from 16 V to 80 V and allows a circuit board to be removed from or inserted safely into a live backplane, eliminating the need to power it down. The ADM1272 also provides system protection from faults such as over current events, voltage transients and short circuits.
Other features include current, voltage, power and energy readback using an integrated 12-bit analog-to-digital converter (ADC) accessed using a PMBus interface. This hot swap controller is able to stand off up to 120 V, thus can withstand surges and transients and avoiding resets commonly associated with high voltage systems.