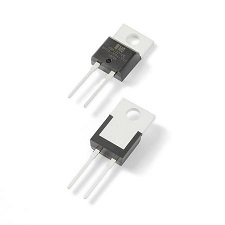 Silicon carbide Schottky diodes. Image credit: Monolith Semiconductor
Several demonstrations and new technology platforms will be presented by Littlefuse, Inc., and Monolith Semiconductor at the Applied Power Electronics Conference & Exposition (APEC 2017), March 26-30, 2017. This will mark their first joint appearance since the recent majority investment made by Littelfuse in Monolith, a Texas-based start-up company developing silicon carbide technology.
The theme for booth #536 is "Making SiC Mainstream—Defined by Customers. Developed by Monolith. Delivered by Littelfuse." Products nearing introduction, including the new GEN2 Series of 1200 V silicon carbide (SiC) Schottky diodes manufactured in an automotive-qualified 150mm CMOS foundry, will be highlighted.
Presentations planned by Monolith Semiconductor experts include:
• "Silicon Carbide MOSFETs—Deep Dive to Accelerate Your Next Power Converter Design," Professional Education Seminar—Session S02, Room 15/16, March 26, 9:30 am to 1:00 pm.
• "Large Scale Test Bed for In-Circuit Reliability Testing of Silicon Carbide Diodes and MOSFETs Emulating Real Life Voltage and Current Stress," Session T12—Power Device Reliability, Room 21, March 29, 8:30 am to 10:10 am.
• "Rugged 1.2 kV SiC MOSFETs Fabricated in High-Volume 150mm CMOS Fab," Industry Sessions Lecture, Session IS15—Industrial Power Applications of Silicon Carbide Semiconductors, Room 13, March 30, 8:30 am to 11:30 am.
Applications experts will be available to walk booth visitors through the design process. Kiosks in the booth will offer visitors videos and models of several new technology platforms:

• Advanced power converters demonstrating the benefits of SiC-based platform designs, delivering module-like power, higher efficiency, increased power density and performance with discrete SiC devices.
• Evaluation kits and design platforms that can simplify the design and optimization of power converters using SiC diodes and MOSFETs.