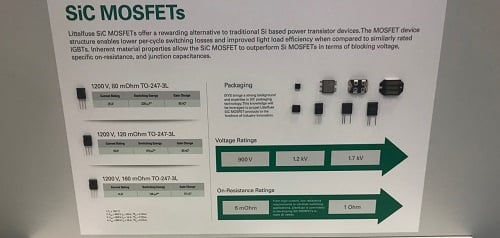 LittelFuse portfolio of SiC MOSFETs. Source: Littelfuse
Littelfuse Inc. is having a busy time at this week's 2018 Applied Power Electronics Conference (APEC) in San Antonio, Texas. The company not only expanded its line of 1,200 V silicon carbide (SiC) n-channel, enhancement-mode MOSFETs, but also made its first joint public appearance since acquiring IXYS in January of this year.
This acquisition adds new technologies to Littelfuse's portfolio of semiconductor power products, including power modules, high temperature/low-loss discretes, medium- and high-power thyristors, fast recovery diodes and rectifiers, industrial IGBTs, driver and control ICs and optical and solid-state relays.
The new MOSFETs were developed as part of the strategic partnership that Littelfuse formed with Monolith for new power semiconductors in the industrial and automotive markets.
The LSIC1MO120E0120 and LSIC1MO120E0160 SiC MOSFETs offer ultra-low on-resistance (RDS(ON)) levels of just 120 milliohms and 160 milliohms, respectively. They are designed for use in power semiconductor switches in a wide range of power conversion systems. Littelfuse claims these devices outperform competing devices in blocking voltage, specific-on resistance and junction capacitances.
These SiC MOSFETs are designed for applications such as electric vehicles, industrial machinery, renewable energy, medical equipment, switch-mode power supplies, uninterruptible power supplies, motor drives, high-voltage DC/DC converters and induction heating.
The MOSFETs contain a low gate charge and output capacitance combined with an ultra-low on-resistance for minimal power dissipation, higher efficiency and a reduction of size and sophistication of the cooling techniques required.