Wind energy exploitation in northern latitudes has become increasingly attractive to energy developers due to high wind speeds and simplified project permitting in remote areas. Technology developments specific to cold climate wind turbine technology, such as anti-icing and heating systems, have encouraged expansion of wind energy in northern Europe and Canada.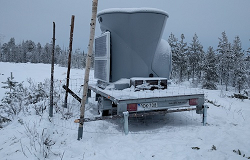 Triton remote sensor installed at Puhuri Oy site in northern Finland. (Source: Vaisala)
However, frigid weather impedes use of traditional resource assessment and site analysis approaches. Cold, icy conditions complicate the installation of measurement masts and can damage mechanical sensors, while off-grid locations and low solar availability in polar regions make it difficult and costly to keep large instruments powered-up. Remote sensing devices also suffer from performance and reliability issues at temperatures down to -40°C.
The Triton Wind Profiler manufactured by Vaisala has demonstrated durability in wind resource assessment service during two winters in northern Finland. Two Triton sodar systems have been used in the region by Finnish developer and operator Puhuri Oy to conduct extensive 6- to 14-month measurement campaigns.
The advanced remote sensing system provides accurate wind measurement data across the entire blade sweep of large wind turbines. Adding Triton data to 60- or 80-m tower data reduces resource assessment uncertainty.
The sodar system has ultra-low power requirements -- 7 W for a standard Triton – and is available with an optional methanol-fueled extended power option to supplement its solar panels during low sunlight months.