A portable device for the amplification and detection of DNA and RNA molecules could bring inexpensive point-of-care genetic diagnostics outside of the clinical setting. The device developed at University of California (Los Angeles) leverages the sensors and optics of cellphones to read light produced by a new detector dye mixture that reports the presence of DNA molecules with a signal that is 10x brighter.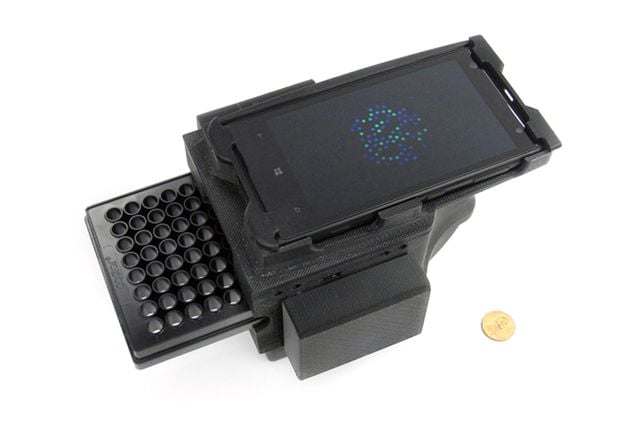 The combined dye/cellphone reader system. (Credit: Dino Di Carlo/UCLA)Iintercalator dyes, which are molecules that attach to nucleic acids and emit a fluorescent light, have been used for cheap optical detection of genetic material. These dyes are short lived and produce a weak light that is difficult to detect, limiting such techniques. An additive discovered by the researchers stabilized the dyes and boosted the fluorescent signal above the background light level, enabling the test to be integrated with inexpensive cellphone- based detection methods.
Each fiber in a field-portable fiber optic bundle routes the signal from each well in an assay microplate to a unique location of the camera sensor area. The device was demonstrated using loop-mediated isothermal amplification with DNA from lambda phage as the target molecule. Results achieved with the portable system are comparable to those documented with expensive benchtop readers.
The researchers plan to adapt the assay to complex clinical samples and nucleic acids associated with pathogens such as influenza.