A new handheld device combines electronic transistors made of graphene with clustered regularly interspaced short palindromic repeats (CRISPR) technology to detect genetic mutations in minutes. The system developed by researchers from the University of California Berkeley and the Keck Graduate Institute of The Claremont Colleges eliminates the need for time-consuming sample amplification so that testing could be conducted in a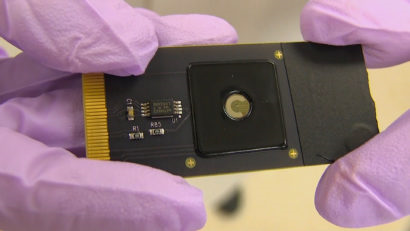 Each individual chip can be coated with Cas9 proteins equipped with different RNA guides to detect different sequences of DNA. Source: Keck Graduate Institute doctor's office or in the field.
The CRISPR-chip is designed to rapidly diagnose genetic diseases and to evaluate the accuracy of gene-editing techniques. The biosensor uses a deactivated Cas9 protein to assay DNA without first amplifying the sample with the polymerase chain reaction process. A change in the electrical conductance of graphene, which in turn changes the electrical characteristics of the transistor, occurs when the target DNA site is detected.
The sensitivity of the CRISPR-chip was demonstrated in detecting two common genetic mutations in blood samples from Duchenne muscular dystrophy patients. Rapid genetic testing with the system could also be used to help doctors develop individualized treatment plans for patients. Since CRISPR-chip can be used to monitor whether CRISPR binds to specific DNA sequences, it could also find application in testing the effectiveness of CRISPR-based gene-editing techniques. It could, for example, be used to verify that guide RNA sequences are designed correctly.