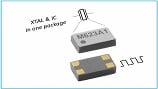 Low-frequency oscillator comes in package measuring just 1.2 x 2.0 x 0.7 mm. Source: Micro Crystal. Micro Crystal now offers its low-frequency oscillator in a hermetically sealed package measuring just 1.2 x 2.0 x 0.7 mm. This hermetically sealed package hosts the integrated circuit together with the XTAL. It withstands harsh environmental conditions.
Aside from the large supply voltage range, the oscillator features very low-power consumption. In active mode, it draws as low as 1 μA driving one CMOS load. Since the oscillator is running also in stand-by mode (i= 0.45 μA) the accurate frequency is available instantaneously, with no delayed startup time.
The wide supply voltage range of 1.6 V to 5.5 V combined with the large operating temperature range of -40° C to + 85° C, low-power consumption and small package size suits it for applications such as wearables and activity brands, single-board computers, clock sources, and automotive keyless entry remotes.