Bliley Technologies has announced reportedly the world's lowest power ovenized oscillator, the LP102 OCXO. Offering good stability and phase noise performance in a product that consumes only 135 mW, the LP102 represents a major innovation in the frequency control industry.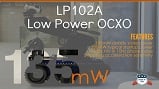 LP102 OCXO oscillator. Source: Bliley Technologies
Specifications for the oscillator include a supply voltage of +3.3 or + 5 V, an operating temperature range of -40 to +85° C, a frequency range of 10 to 50 MHz, and a frequency stability of +/-75 or +/-100 ppb.