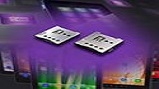 5236 Series µSIM memory card
AVX Corporation has introduced the 5236 Series µSIM memory card connectors from Kyocera Connector Products. The connectors, available in both single- and dual-card versions, share a common PCB layout and feature 33% more signal pins than comparable connectors—eight for the single card and 16 for the double card.



The connectors also feature a shell guide mechanism that prevents incorrect card insertion and unwanted ejection, enabling the secure operation of µSIM cards in mobile electronics, including smartphones and tablet PCs. Compact and low profile, with a minimal 0.7 mm pitch, the series also features a normally closed internal card switch that detects the presence of an inserted card to lower overall power consumption. It also offers a user-friendly push-push, spring-eject mechanism, with an assured card ejection distance of 3.8 mm for improved workability.


Rated for 5 V/0.5 A per contact and operating temperatures spanning –40° C to +85° C, the connectors are RoHS compliant, halogen-free and guaranteed for 3,000 mating cycles. The single-card version measures 16.2 mm × 14.4 mm × 1.30 mm (L x W x H), and the dual-card version measures 17.22 mm × 16.28 mm × 2.75 mm.