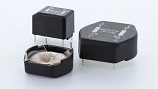 New Yorker Electronics
is now distributing
Exxelia Magnetics' series
of TCM Common Mode Chokes. The series is designed and qualified to be compatible with aerospace applications and is a cost-effective solution for harsh environments.
The TCM Series is offered with inductances from 0.7mH to 47mH under rated currents from 0.3 A to 4 A and is thoroughly tested by a dielectric withstanding strength at 1,500 VAC. The TCM's thermal properties allow it to operate seamlessly from -55° C to +125° C, making it a cost-effective solution for harsh environments. This, combined with the high mechanical resistance of the component materials, makes it ideal for aviation, defense and transportation industries.
All materials meet UL94 V0 ratings and the devices fully comply with the requirements of RoHS and REACH. The TCM series can be designed into circuit boards on a large number of power electronic devices used for a wide range of applications, including switch mode power supplies and converters, inverters, battery management systems and chargers.
The TCM series is available in a through-hole package for horizontal and vertical mounting.