New Yorker Electronics is expanding its CUBISIC capacitor range with Exxelia's new high temperature low profile (HTLP) aluminum electrolytic capacitor. This CUBISIC HTLP offers, in a thin rectangular packaging, the highest energy density of capacitors in its class, combined with a high temperature resistance (-55° C to 125° C).
Exxelia, a global manufacturer of complex passive components and subsystems for harsh environments, has acknowledged that this low-profile capacitor offers up to 60% more capacity than any other rectangular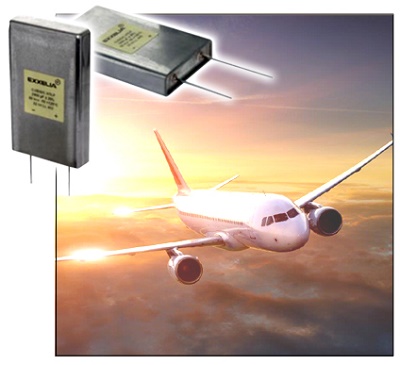 Source: New Yorker Electronicselectrolytic capacitor on the market, in the same volume, while having a 5,000-hour life span. By covering such a broad temperature range, the CUBISIC HTLP is designed to provide exceptional performance in extreme temperatures, compatible with the most severe military and aerospace applications.
Engineers facing complex design requirements and looking for an easily integrated product will gain space and reliability from improved materials that are fully REACH-compliant. The CUBISIC HTLP withstands 20 g vibration and is low-pressure qualified, making it compatible to 92,000 ft in altitude. It is ideally suited for integration into cockpits, actuators, and power generation in commercial and military aircraft as well as radar and laser systems. It offers 5,000 hours of service life, rated at 125° C and the series provides capacitance ranges from 140 μF to 58 000 μF and voltages from 7.5 V to 350 V.