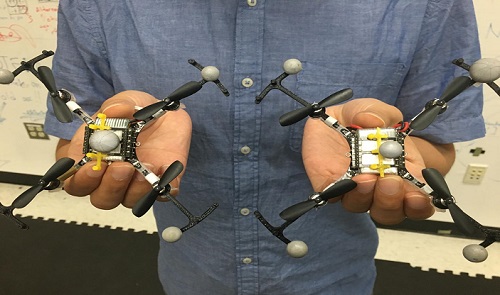 The drones used in the research study about collision-avoiding swarms. Image credit: Georgia Institute of Technology
A swarm of free-flying robots have been developed that fly back and forth in formation and change behaviors based on user commands to avoid colliding or undercutting each other.
Researchers at Georgia Institute of Technology have created the drone swarm so that if a robot cuts into the airstream, it can maneuver away from turbulent air without crashing out of the sky
"Ground robots have had built-in safety 'bubbles' around them for a long time to avoid crashing," says Magnus Egerstedt, professor at the Georgia Tech School of Electrical and Computer Engineering. "Our quadcopters must also include a cylindrical 'do not touch' area to avoid messing up the airflow for each other. They're basically wearing virtual top hats."
As long as the drones avoid flying in the two-foot space below another drone, they can swarm freely without a problem meaning they dart around each other rather than going low.
The "top hat" was discovered by hovering one quadcopter in the air and sending others back and forth underneath it. Researchers create algorithms to allow the drones to change formation mid-flight with just a small amount of modifications to the quadcopter.
"Our skies will become more congested with autonomous machines, whether they're used for deliveries, agriculture or search and rescue," Egerstedt says. "It's not possible for one person to control dozens or hundreds of robots at a time. That's why we need machines to figure it out themselves."
The project will be presented at the 2017 IEEE International Conference on Robotics and Automation (ICRA) on May 29-June 3 in Singapore.