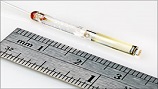 Zygo Corporation has introduced the ZPSTM absolute position measurement system with ultra-compact optical sensor technology.
The ZPS system enables high-precision measurement and positional control for advanced applications, such as deformable optics, lens positioning systems and fine stage control. The ZPS system provides high-precision, non-contact absolute position measurements on up to 64 synchronized channels.
Key features include an ultra-compact optical sensor and hardware platform that delivers superior sensitivity, resolution and stability over a range of 1.2 mm. The advanced optical sensor generates virtually no heat and is insensitive to electromagnetic interference, achieving measurement resolution of 0.01 nm with better than 1 nm/day measurement stability.
In addition, the ZPS system utilizes fiber optic cabling that allows for the use of a remote sensor location without impacting the measurement data. Optional accessories enable real-time automatic compensation for changes in ambient environmental conditions.