New white light interferometers developed by Micro-Epsilon are designed to enhance accuracy levels in absolute non-contact optical distance and thickness measurement.
The interferoMETER range delivers measurement resolution from 30 picometres and linearity from ±10 nm. Unlike traditional laser interferometers that use a single wavelength and perform relative measurements, the new instruments operate with a broadband super-luminescent diode and can make absolute measurements,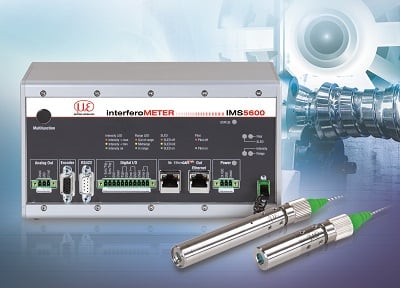 The instruments deliver measurement resolution from 30 picometres and linearity from ±10 nm. Source: Micro-Epsilonideal for step height and surface measurements. The use of the longer 840 nm wavelength allows for a greater overall measurement range and operating in the near-infrared part of the spectrum opens opportunity to measure thicknesses of anti-reflective glass, plastics, reflective metals and coated objects.
The devices include a controller, fiber optic cable and sensors designed for industrial measurement tasks and fitted with robust metal housings. System configuration is completed with a user-friendly web interface that speeds up commissioning and parameter set up. Measuring up to 6 kHz enable high speed measurements in fast moving production environments.
Three different versions of the interferoMETER are available: the IMS5400-DS for high precision absolute distance measurements in industrial environments; the IMS5400-TH for high accuracy thickness measurements; and the IMS5600-DS with vacuum-compatible design for absolute distance measurements to picometre resolution in clean rooms and ultra-high vacuums.