Daimler's Mercedes-Benz van is coming to the 2017 CES in Las Vegas this week for the first time. The "Vision Van" is a new transport electric vehicle (EV) that integrates the Internet of Things (IoT), drones and automated load compartments.
Daimler claims the van is the first van to feature a completely digitally connected process chain, from the goods distribution depot to the consignee. The vehicle contains a fully automated load compartment for better delivery and access to goods; integrated drones for autonomous air deliveries; and joystick control. The 75 kW electric drive provides a range of about 167 miles, making it one of the first emission-free and silent vans today.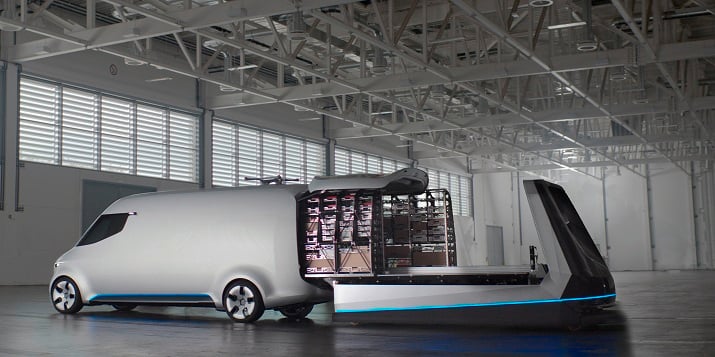 The Vision Van includes a digitized, fully automated loading compartment and drone delivery system that can be controlled through an integrated joystick. Source: Daimler Daimler is touting the Vision Van's ability to communicate with other road users, the driver and its surroundings via a black panel radiator grill with a light-emitting diode (LED) matrix and an LED display integrated into the rear of the van. This warns other drivers when the vehicle is stopping, turning or releasing drones, but it also signals to indicate if the van will be parked for a while.
The inside communication provides a driver with speed, route planning information, drone flight details and information to the parcel deliverer via the floor of the van through LED indicator lights, Daimler says. The van can also connect to a smartwatch that provides information relating to manual delivery of goods if needed. The watch shows various data, such as delivery address, input codes for electronic locking systems, and a secure place where consignment can be dropped.
Mothership for Autonomous Robots
At CES, Daimler will also showcase its work with Starship Technologies, a delivery robot start-up company. Using the Vision Van and the robot delivery service will create a mobile goods depot and a distribution center for automated last-mile delivery systems, the company says.
The prototype project will incorporate a racking system that operates according to the first-in, first-out (FIFO) principle, with a total of 54 load carriers for eight Starship robots. The system calculates a route for the van with optimized stops for unloading individual robots and collecting empty robots. The robots autonomously deliver goods to their destination and then return to the van.
Daimler says its long-term vision, which it calls "Mothership," is to have an autonomous robot fleet that coordinates and optimizes its routes with vans from Mercedes-Benz and that gets loaded automatically. Daimler will step up its collaboration with Starship Technologies in order to continue this project.