There are a host of companies that are racing to get autonomous delivery services off the ground through a variety of means. One is through drones, which are seeing a large uptick in the number of projects around the world, but the other is through autonomous delivery vehicles that take orders online or via smartphone and self-drive to a location for food, groceries or other goods delivery.
One such delivery program began this month from Kroger in the form of a self-driving van that will bring groceries to people in the Scottsdale, Arizona, region. Other programs include a driverless grocery van in London from Ocado Technology, Ford and Postmates's on-demand service from local stores and restaurants and many more.
Now, startup AutoX is getting into the market with its self-driving grocery delivery and mobile store pilot projects in California's Bay Area.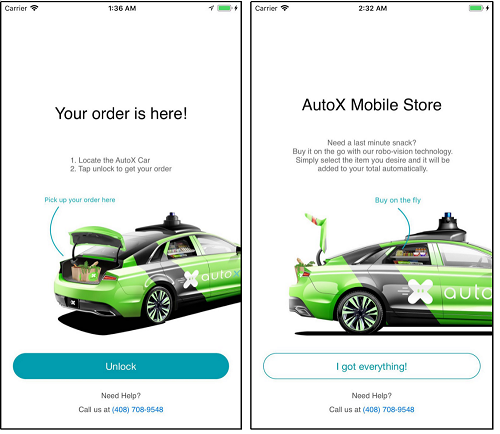 How to order groceries through the pilot program in Silicon Valley. Source: AutoXThe delivery service will allow users to order and receive fresh produce and other goods delivered by AutoX self-driving cars.
AutoX said the pilot program is the first step in its strategy to use self-driving cars and artificial intelligence to make consumers' lives easier and open up new ways to receive goods.
The company is partnering with e-commerce company GrubMarket.com, which sources organic and healthy food from producers and supplies Whole Foods, Blue Apron, Hello Fresh and Chipotle.
Users download the AutoX app, browse and order items and then the autonomous vehicle delivers the goods to their house or other location. Consumers can also have the car come to a location where they can pick and choose what they want. When the car arrives, a window rolls down with AutoX's selections for customers to choose from.
"We are enabling two shopping experiences with self-driving cars," said Jewel Li, COO of AutoX. "You can order goods from an app and get them delivered by a self-driving vehicle. Or, our self-driving car brings a shelf of goods to you, and you can select and purchase onsite in front of your house."
In terms of the autonomous vehicle, the system utilizes Level 4 autonomous driving but will use high-resolution cameras as the primary sensor instead of LiDAR. AutoX said the cameras enable the AI to detect small objects such as pedestrians and pets as well as objects at greater distances.
AutoX said it will roll out the grocery delivery system in two phases. The first phase will be a pilot project in San Jose with a second pilot phase beginning in Mountain View, Calif. and Palo Alto, Calif. The company plans to work with other delivery partners in the future as well.