At the edge where the Internet of Things (IoT) begins, all the devices must be "sensed" and their data sent to the outside world, where something useful and actionable can be gleaned from it. But in IoT's shiny new world, many of these devices are many years and sometimes decades old. This presents a significant challenge: how to make these ancient pumps, motors, switches, valves and myriad other components "IoT enabled." This includes detecting their operating condition, to communicating the resulting data via a short-range communication standard and then a wide area network, and then on to cloud data servers. Fortunately there are solutions—even for the huge numbers of rust-encrusted devices that are still in service.
Although for most people IoT is an entirely new idea, for industrial applications it is simply the 21st- century version of remote monitoring and operation of equipment that in the 1960s became known as Supervisory Control and Data Acquisition (SCADA). This was initially a data-logging and telemetry system that gathered and sent data about a component, subsystem or complete system to a remote site for processing and alerted control centers about operating conditions.
Its origins can be traced back to the 1940s, when electric utilities first used magnetic stepping switches developed for telephone circuits to deliver a rudimentary form of supervisory control. It evolved through multiple generations, thanks to advances in technology, to become an essential component in systems spanning oil and gas refining, telecommunications, transportation, water and waste control, and many others. An animated display of a SCADA system is shown in Figure 1.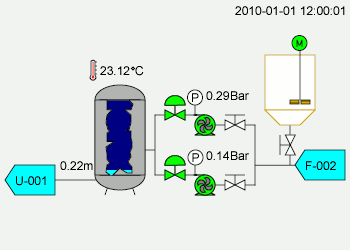 A SCADA system in action Source: Wikipedia
What has changed over the years is the number and types of functions that must be monitored and controlled, the development of much more competent hardware and software to do it, and the ability to produce huge amounts of useful information from the data. What has not changed is that some of the equipment is still in service, but it is not able to deliver the data analysis needed for IoT.
Consequently the "run to fail" paradigm is still the first indication that a specific component, such as a pump, simply fails—sometimes spectacularly. This is obviously the least-desirable scenario and one of the things IoT is designed to correct, but larger companies with deep pockets can afford to replace old equipment to bring it into the IoT era, while many other companies cannot.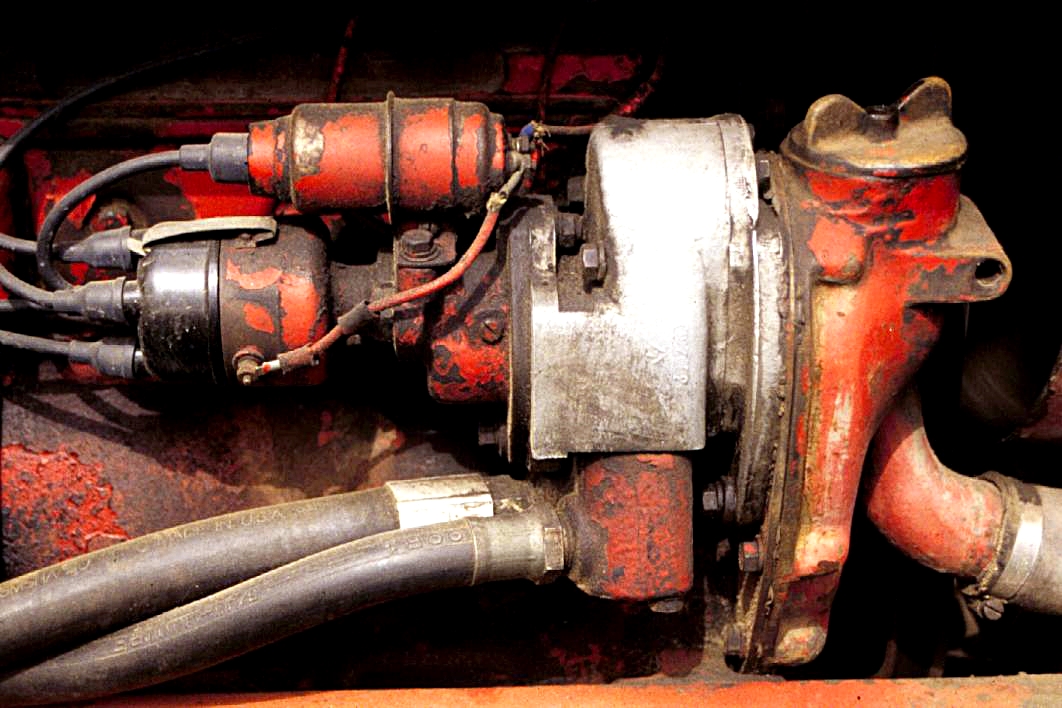 If this aging water pump can be made to work in the IoT world, there is hope for millions of aging components that still work and would be costly to replace. Source: Wikipedia
The "Bolt-on" Approach
A much less expensive solution is to bolt-on the required sensing and communications hardware to existing equipment, making it the industrial equivalent of wearables. Instead of sensing, recording and relaying data about heartbeats and footsteps, this hardware relies on detecting impending failure by sensing a wide array of variables, from temperature, vibration and audible noise, to voltage and current that vary with different types of equipment. All types of equipment emit sounds, operate over a specific temperature range, and exhibit other characteristics that are different when the equipment is working properly and when it is in trouble. Installing an "industrial wearable" equipped with wireless connectivity and equipment-specific sensors can provide a cost-effective solution that allows the equipment to remain in place.
Expanding this definition to include an infinite number of types of equipment does not take much imagination. For example, if pressure is a key performance determinant, a wireless-enabled sensor can simply be inserted where needed. Where airflow must be maintained at a specific rate, any reduction in this rate caused by some other factor can also be detected with the sensor. And, of course, electrical conditions can be detected in the same way.
Once installed, the component becomes simply another part of the IoT ecosystem, where data is collected, aggregated, perhaps minimally processed locally, and then sent to data centers for detailed analysis. After this, the results can be sent virtually anywhere so that action can be taken.
For the tens of thousands of smaller companies that operate all types of older equipment, this approach can make the difference between maintaining the run-to-fail paradigm that can result in aggravated customers and expensive after-the-disaster service calls, and far less costly preventive maintenance.
Taking the Initiative
A testament to the fact that retrofitting legacy equipment is becoming a major issue as Industrial IoT rapidly takes off, is an initiative within the Digital Manufacturing and Design Innovation Institute (DMDII) based in Chicago. Created in 2014 by the Obama administration, DMDII is a consortium of industry, academia and research institutions that has the goal of developing new ways to make American manufacturing more competitive. The consortium is led by UI Labs, which has more than 200 partners, including 14 that have invested between $200,000 and $650,000 a year to support its operations. It employs 50 engineers and support staff, and occupies a 100,000-square-foot facility in Chicago and two other local hubs.
In 2014 DMDII was awarded $70 million by the Army Contracting Command for various projects, one of which is called "Industrial Internet of Things Retrofit Kit for Legacy Manufacturing." A request for proposal (RFP) was issued for the project in March 2016. In the RFP, DMDII recognized that legacy machines are valuable and productive, and they are not likely to be replaced soon. However they were built and installed when computing resources were more expensive and complicated; typically they either have no digital connectivity, or they rely on proprietary hardware and software. So the goal of the initiative is to create a plug-and-play retrofit solution costing between $500 and $1,000 per machine that allows this older equipment to easily become compatible with the requirements of the Industrial IoT. Proposals were due in late October and the group met in December to kick off its major projects.
Other organizations are also creating methods of solving the problem, including a relatively young company called Prophecy Sensorlytics. It was founded to meet the needs of other companies by providing both the bolt-on equipment as well as the application software required to provide human-usable information. The company's PumpSense solution is shown in Figure 3.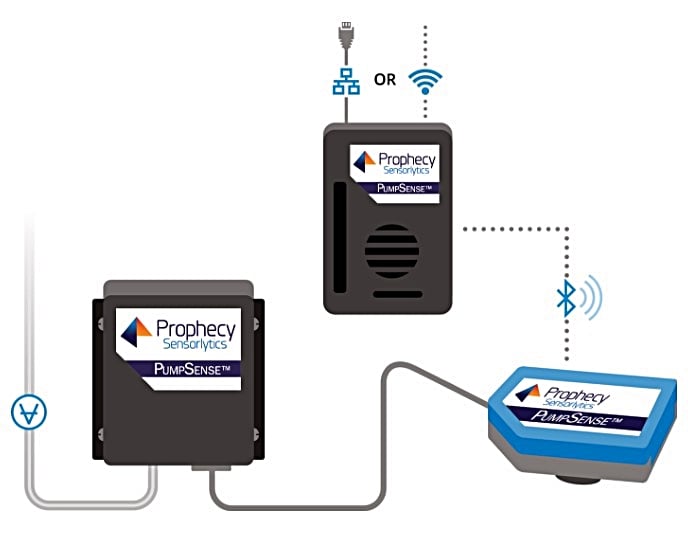 The PumpSense system from Prophecy Sensorlytics adds IoT sensing, monitoring and communication capability to legacy equipment. Source: Prophecy Sensorlytics
There Is Always a Way
In many industries, equipment is ruggedly designed to be used for many, many years. Replacing all of it in order to make it IoT-enabled would be an enormously expensive proposition, so it is encouraging that the problem is being addressed by private industry as well as government industry partnerships such as DMDII. The latter's plug-and-play solution involves more than simply adding sensors to legacy equipment; it also provides a common digital interface that potentially solves the problem of incompatibilities between the many communication solutions used throughout industry. The goal of DMDII is to apply a team of engineers to a problem and rapidly create a solution, so at least one hurdle to more widespread IoT implementation should soon be overcome.