Home Appliances
Connecting Commercial White Goods to the IoT Underscores the Need for EMI Filtering
28 June 2017
Sponsored content
The commercial kitchen and laundry have become new frontiers for technological advance. The Internet of Things (IoT) has applications for refrigeration, cooking appliances, washers, dryers and many other types of cleaning service and commercial food equipment (including vending machines). As a result, the manager of a chain of restaurants or the director of a hotel laundry now can remotely monitor pieces of equipment so that efficiency is optimized and the quality of service maintained.
As the IoT revolution comes to the commercial laundry and kitchen, the inevitable result is a proliferation of electronic controls. In addition, and as with other IoT applications, numerous sensors mounted on commercial appliances are employed to wirelessly send data to the cloud, where automated analysis is performed, alerts issued and recommendations made that are transmitted to PCs or mobile devices to adjust settings, turn off equipment not needed and generate reports and alerts about performance issues that could compromise safety.
But just as in smart factories and smart homes, as process automation and communication complexity increase, the risk of a malfunction caused by electromagnetic interference increases, too, along with the need for corresponding EMI filters and chokes to ensure correct functioning and adherence to the requirements of electromagnetic compatibility (EMC) standards set by government agencies.
Line Filters
There are three essential elements to any EMI problem: a source, a receptor device that is victimized by the EMI and a pathway between the source and the receptor. These problems are solved by identifying at least two of these elements and eliminating or attenuating the interference from at least one of them. In the case of commercial kitchens or laundries, a large percentage of the potential EMI is derived from the power line, motor drives and control lines.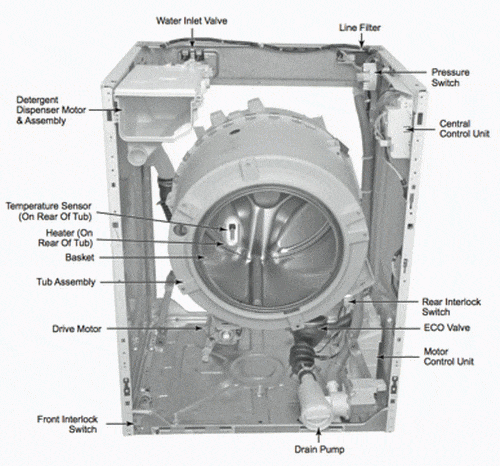 Typical washing machine component layout. Note the position of the line filter, central control unit, drive motor and the motor control unit. (Source: LG-WM2277HW Service-Manual)Filters suppress conducted interference that is present on a signal or power line, playing a key role in the attenuation of these potentially disruptive signals. By way of background, an EMI filter is a passive electronic device that suppresses conducted interference present on any power or signal line. It may be used to suppress the interference generated by the device itself as well as to suppress the interference generated by other equipment to improve the immunity of a device to the EMI signals present within its electromagnetic environment. Most EMI filters include components to suppress both common and differential mode interference so these signals will have less of an effect on other devices.
A line filter is placed between a piece of electronic equipment and a line external to it, to attenuate conducted frequencies between the line and the equipment. Generally, an EMI filter is placed in a way that the line terminal is connected to the input side, but it can also be used in a reverse configuration (however, that may end up producing a different attenuation effect); in the case of asymmetric circuits, it may cause a difference in the attenuation.
Motors and Drives
Within a larger appliance are various circuit components and modules that are generators of EMI and those that are highly susceptible to EMI noise. Each circuit portion must be individually filtered to suppress EMI. In the past, appliance manufacturers used DC brush motors for motion control in their products. Brush commutated motors are spark generators that combine with transmission lines such as power cables, wires and traces to radiate broadband EMI into a larger electrical system. The resulting EMI can cause malfunctions when coupled to other nearby circuit components that are susceptible to interference. This was particularly true in appliances like washing machines, which have to provide very dynamic torque profiles during washing cycles and the motors were often oversized to account for the load torque changes and transients.
Although it has a lower life span than its brushless counterparts, universal motors are well suited for low duty cycle applications where motor efficiency is not critical. The control of a universal motor is typically performed with a low-cost Triac, a three-electrode semiconductor device that will conduct in either direction when triggered by a positive or negative signal at the gate electrode. The largest source of EMI noise with this type of control is the switching of the Triac.
More recently, a regulatory push toward more energy-efficient appliances with improved EMI performance has led to the replacement of AC induction motors by brushless DC motor (BLDC) designs in many applications. A modern dishwasher, for example, contains two motor-driven pumps: a circulation pump to circulate the clean water and a drain pump to remove the waste water. Although many dishwashers still use high-voltage (300 V) BLDC motors for these pumps, a low-voltage BLDC motor is an increasingly attractive option, reducing audible noise, size and cost of the motor control and system.
BLDC motors achieve higher efficiency by generating the rotor magnetic flux with rotor magnets. They are used in commercial (and home) appliances such as refrigerators, washing machines, dryers and other devices that require high reliability and efficiency. In the BLDC motor-drive system, the leakage current from a motor to a ground network and the existence of high-frequency components of the DC link current are the most important factors that cause conducting interference, which can disturb other subsystems. In particular, electromagnetic interference electrical motors can disrupt computerized appliances of any kind and can render them inoperable. To alleviate the problem, filters are employed to overcome EMI. In order to use the filter to prevent unwanted signals from entering a certain electrical area, the filter should be installed as close as possible to that area. The connection between the filter and source circuit should be kept as short as possible.
Control Boards
Control boards and digital controllers send electrical signals that manage essential operations in commercial equipment. The control board accepts inputs from the user through buttons, switches or touch devices and actuates motors, heating elements, water pumps and valves. In these products, interference from the drive system to the control lines can cause a drop out of the control unit and, consequently, downtime for the entire machine.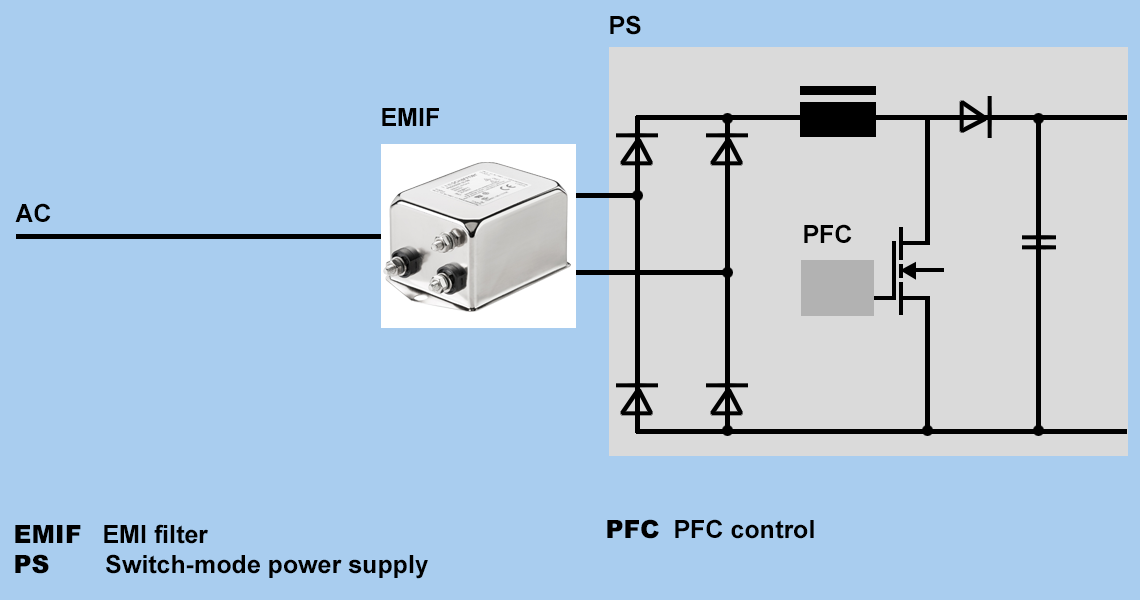 Single-phase filters are used in a wide range of applications, such as control panels, systems, equipment and apparatus, together with power supplies or other electrical functions. PFC control is necessary in appliances such as washing machines because of the continuous transients and surge currents exhibited by the electric motor during the wash cycle. (Source: Schaffner)For example, a refrigerated vending machine requires a refrigeration driver board, which maintains the temperature as measured by temperature sensors. Power is switched on and off by a relay on the Refrigeration Driver Board. Typically, a minimum of one minute is required for both the cycle on and cycle off time of the relay. This ensures that the compressor is not cycled on and/or off too rapidly. Independent of the temperature, the relay, and, therefore, the compressor, will be off a few minutes every hour for a defrost cycle. Power to operate the refrigeration unit is supplied to the Refrigeration Driver Board, generally located in the power supply box and is itself connected to an EMI filter.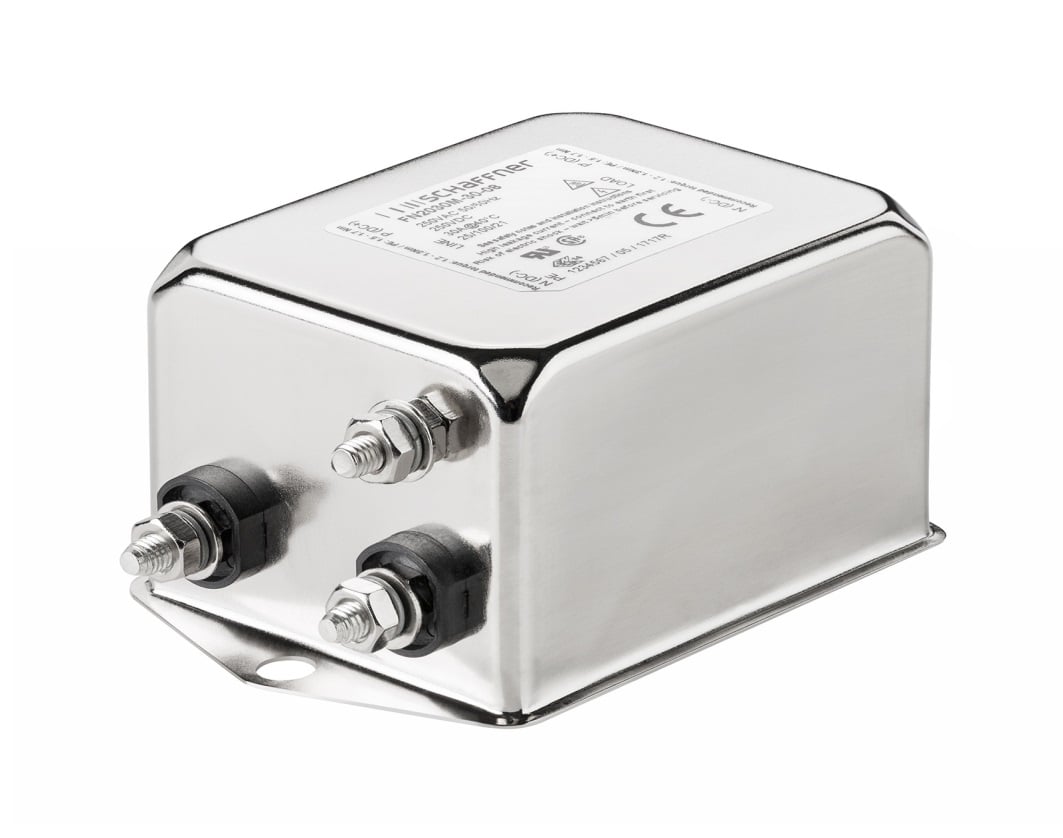 The Shaffner FN 2030 filter ensures interference-free operation. (Source: Schaffner)By operating a filter such as the FN 2030 in addition to a mains input filter, the negative effects of EMI can be eliminated for most situations. Designed for easy and fast chassis mounting, the 10A/250VAC FN 2030 general purpose EMI filter provides exceptional conducted attenuation performance based on chokes with high permeable core material and excellent thermal behavior. FN 2030 filers are available in "A" versions with low capacitance for safety critical applications with a requirement for low leakage currents and "B" versions with no Y-capacitors for medical applications. Its higher inductivity versus amperage offers increased attenuation performance with the same form factor as the FN 2010 and FN 2020 filter series. All FN 2030 filters can be delivered with optional surge pulse protection. FN 2030 filters are also available as two-stage filters (FN 2090 series) for noisy environments.
International Standards
Commercial appliances of the type that have been discussed in this article are required to meet the applicable EMI noise emissions and susceptibility standards of those countries in which they are sold. If there is more than one market, more than one emission standard may have to be met. The International Electrotechnical Commission (IEC) has three technical committees (TCs) that work on EMI standards. They are the International Committee on Radio Interference (CISPR); TC77, which is concerned with electromagnetic compatibility (EMC) of electrical equipment; and TC65, which is concerned with immunity standards. The CISPR 10 and CISPR 23 standards are results of the committee's work.

The United States and Canada have EMI requirements that electronic devices must meet. All electronic devices, whether intentional radiators or unintentional radiators must meet either the Federal Communications Commission (FCC) or Innovation, Science, and Economic Development (ISED) Canada regulations. In the United States, the Federal Communications Commission (FCC) regulates EMI. In Europe, the European Commission (EC) handles European standards.
The Federal Code of Regulation 47CFR Part 15 applies to most electronic equipment being marketed in the United States. There are two sets of limits for Part 15 that relate to the intended environment of the product. Class A limits cover commercial and industrial environments and Class B relates to residential environments. Class B limits are more severe than Class A.
The European Union (EU) controls EMC by means of the EMC Directive 89/336/EEC. This EU directive simply states that all electrical products must be constructed to ensure that any electromagnetic disturbance it generates allows radio and telecommunications equipment and other apparatus to function as intended and the equipment must be constructed with an inherent level of immunity to externally generated electromagnetic disturbances. "CE marking" is a process that applies to a wide variety of products and one in which manufacturers located in the EU or importers of goods into the EU must complete.
Schaffner Solutions
In addition to agency approvals required for proper usage in the end application, primary considerations for filters include leakage current, insertion loss, rated voltage and current. Insertion loss, expressed in decibels (dB) is the ratio of noise that would get through without a filter, to that which gets through with the filter installed.
As an example, consider Schaffner's FN2000 series single-phase filters, which provide an extremely cost-effective solution for a wide range of general-purpose filtering requirements from 10kHz to 30MHz. Employing high performance magnetic and capacitive components, the filters have a very compact form factor, making them particularly suitable for applications where space is at a premium. All FN2000 Series filters are provided in chassis-mounting metal housings, with a choice of fast-on, wire or screw feed-through connectors for ease of system integration. Typical applications for FN2000 include, but are not limited to, electrical and electronic equipment, office equipment, medical devices (MD), single phase power supplies, switch mode power supplies, test and measurement equipment, data processing, machinery, industrial applications, household equipment and consumer goods.
Schaffner also offers the broadest selection of off-the-shelf filtered power entry modules (PEM), aka IEC inlet filters. A compact EMI filter with connector – like the popular FN9222 family – is the first choice when space is at a premium. Similarly, if a fuse holder or a switch is called for, Schaffner offers its FN9260 and FN9263. And if you are looking for the total package, including features like a voltage selector along with switch and fuse holder, FN280, FN370, FN380 and FN390 are certainly worth considering.
For more information, go to: https://www.schaffner.com/products/emcemi/
Find Free Electronics Datasheets