The International Space Station currently boasts some of the most advanced research and measurement technology available, including measurement machines built by Belgian company Lambda-X. After designing an instrument to monitor the behavior of liquids and gas in weightlessness, the company is using the same technology in a machine designed to improve the comfort and fit of ophthalmic lenses, including eye implants for patients with cataracts.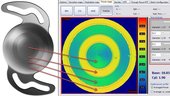 Robust software reports measurements on the interior and exterior of the lens. The device works by mapping the surface of the lens, as well as its interior, for greater accuracy. The software requires no human calibration—which saves time—and has multiple options and full traceability, according to a news report issued by the European Space Association.
The "Eureka!" Moment
The development occurred quite by accident. The company CEO, Olivier Dupont, put his glasses on the unit and realized it could measure optical lenses and surfaces with greater precision than instruments currently available.

Lambda-X, which is not only partnered with the ESA but also creates measurement devices for the ophthalmology industry, then went on to create the quality control machine, which inspects ophthalmic lenses with enhanced accuracy. Having precise measurements for lenses that are implanted is crucial, because you can't just discard such a lens if it doesn't fit correctly. The machine can also be used for contact lens quality control.

In the future, a measurement machine like the one developed by Lambda-X could sit on the desk of an optician's office to measure eyeglass lenses to ensure the lens measurements match a consumer's order.
Technology Inspired by Space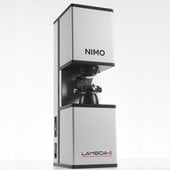 A new optical measurement device inspired by space station technology. For decades, advancements in space technology have driven the development of consumer products in a number of industries. From memory foam to portable cordless vacuums, items we take for granted today were first developed thanks to technology engineered by NASA. The ESA, through its Technology Transfer Programme, is creating its own list of consumer, medical and industrial technology inspired by the instruments and technology onboard the ISS.