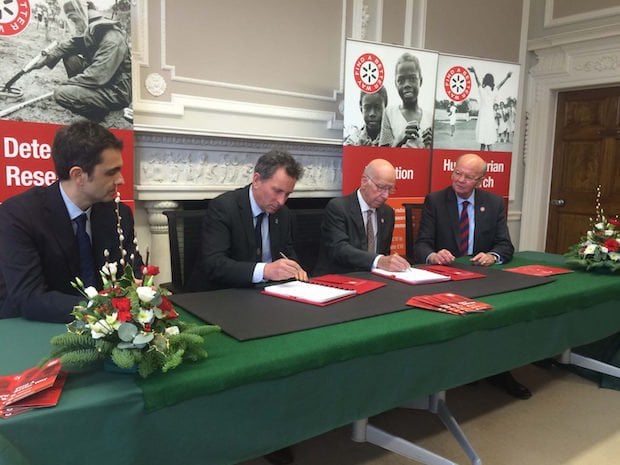 Find a Better Way and the University of Glasgow sign a funding agreement enabling research to harness 3D printing to help re-grow bones. A project, funded by Sir Bobby Charlton's charity organization Find a Better Way, is on its way to saving the victims of landmine blasts by 3D printing bone. The $3.4 million regenerative medicine project, headed by the University of Glasgow, will seek to generate synthetic bone using 3D printing, nanotechnology and stem cell research. Find a Better Way and the University of Glasgow signed an official funding agreement earlier this month, and work will begin on January 1, 2017. The goal is to have the first human study ready within five years.
How It Works
In order to regrow bone in the bodies of landmine blast victims, researchers will first 3D print custom-designed bone scaffolds. Those scaffolds would be coated with nanolayers of the growth factor protein BMP-2, along with stem cells. These will be placed into a machine, designed by deputy project leader Professor Matt Dalby at the University of Glasgow. This "Nanokick" machine is designed to shake the bone scaffold 15 nanometers, 1,000 times per second, stimulating the stem cells and growth factor to interact and grow bone tissue on the scaffold at an accelerated rate compared to previous methods.

The technology would make it possible to print custom-fitted bones within a few days, which would then be implanted in the patient. New bone tissue will continue to grow and the scaffold will dissolve, leaving only new bone behind.

The team of researchers is also working to develop "off the shelf" synthetic bone, designed in common shapes and sizes required for blast victims. Doctors will be able to cut and shape the bone to meet a specific patient's needs.
The Need for Better Bone Regrowth Methods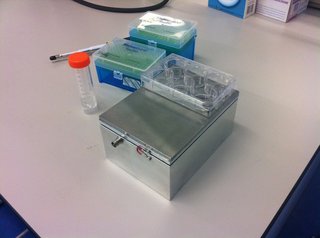 The Nanokick, a machine designed to stimulate the growth of bone tissue. In 2011, Sir Bobby Charlton started Find a Better Way to develop and use technology, facilitate education and provide humanitarian assistance to victims of landmine blasts and their families. An estimated 4,300 people are killed or injured every year as a result of landmines. Because landmines are designed to maim, reconstructive blast surgery is often required to save the lives of victims. Prior attempts to regrow bone, including the use of a specific protein called "growth factor," have not been successful without side effects and complications.
The organization's partnership with University of Glasgow represents a tangible step forward in helping blast victims recover from their injuries, as the new process could permit reconstructive surgery regardless of how much of the original bone is left. "With the developments from this project, we could reach a situation where it is only the limitations of surgical techniques, not the amount of viable tissue remaining, that determines the outcome [of the surgery]," said Find A Way Better Way CEO Lou McGrath OBE
in a press release issued by Find a Better Way
.