Torn or ruptured anterior cruciate ligaments (ACL) in the knee are a common injury for soccer, football, basketball and tennis players. According to Dr. Tarek O. Souryal, M.D., of the Texas Sports Medicine and Orthopaedic Group, between 250,000 and 300,000 ACL injuries occur per year, almost exclusively in athletes.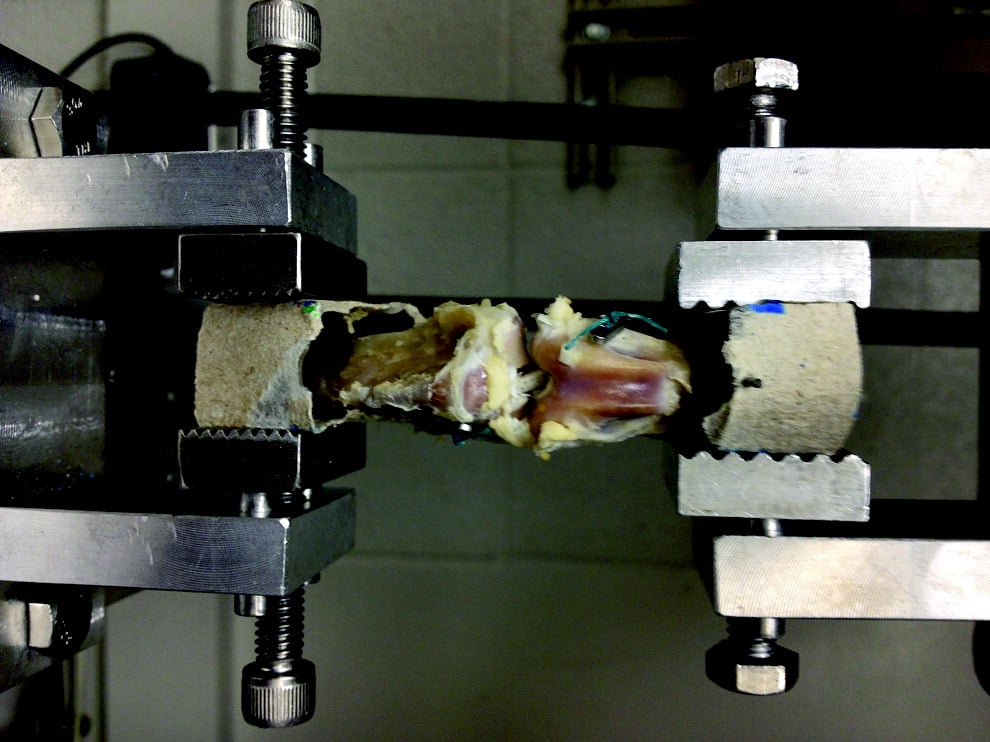 3-D printed bone scaffolding undergoes load to failure testing. / Photo courtesy of Tissue Engineering However, by combining two cutting-edge technologies, researchers based out of the Mayo Clinic in Rochester, MN, have designed a way to improve bone regeneration, aiding in ACL reconstruction.

In an article published by Joshua Alan Parry, M.D., Sanjeev Kakar, M.D. and their co-authors in the peer-reviewed journal Tissue Engineering, the researchers detailed how 3-D printing and controlled release drug delivery work together to reconstruct stronger ACLs.

The researchers first demonstrated the strength of a 3-D-printed porous scaffold in a rabbit ACL construction model. Bone morphogenetic protein is traditionally delivered in collagen, according to the paper, resulting in an initial burst release with high tissue concentrations that decrease dramatically over time. However, by coating the scaffold in a carbonate hydroxyapatite mineral coating (synthetic bone material, or SBM) and polymer microspheres, the initial burst release of rhBMP-2 could be reduced, extending the release of the growth protein over time and resulting in better bone regeneration.

Future studies will compare the scaffold's fixation strength and subsequent bone filling in vivo to determine if this is a suitable alternative to current therapies.

"This work is a good example of the fusion of technologies—controlled release drug delivery and 3-D printing," said Tissue Engineering Co-Editor-in-Chief Peter C. Johnson, M.D., Principal, MedSurgPI, LLC and President and CEO, Scintellix, LLC, Raleigh, NC, in a press release issued by the journal.