Researchers in Spain have developed a low-cost, easy-to-use optical sensor that can detect the optical properties of different liquids. The innovative sensor has applications for quality control in beverage manufacturing, environmental monitoring and analyzing difficult-to-access liquids.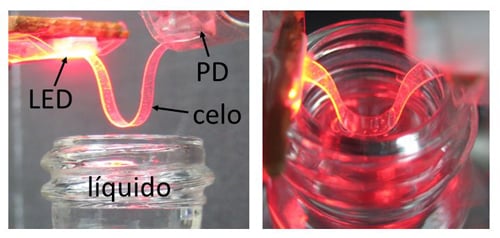 he optical sensor developed by UPM researchers (left) consists of a waveguide made of tape, an LED and a light detector. Because the tape is flexible, it is posDeveloped by engineers at the Universidad Politécnica de Madrid, the sensor consists of three simple elements: a conventional piece of Scotch tape found at any office supply store, a light-emitting diode (LED), and a photodiode, or detecting device.
The flexible, pressure-sensitive adhesive tape acts as a waveguide through which light introduced at the LED end is detected with the photodiode at the opposite end. The key to making it work is a diffractive element—an integrated aluminum one-dimensional grating coupler—that, when stuck on the radiative surface of a light-emitting device, allows light to be coupled in, transmitted through the tape, and picked up by the photo detector affixed to the other end.
Because the tape is flexible, the waveguide can bend when it is partially immersed in liquid. As explained by researchers, as the waveguide bends, part of the propagated light is lost by radiation. This curvature loss depends on the optical properties, in particular the refractive index, of the liquid in which the waveguide is immersed. Thus it is possible to detect variations of the refractive index of the liquid by measuring—with the photodiode—the optical power lost during the path of light through the immersed waveguide.
The refractive index of a liquid solution is related to both its physical and chemical properties, such as density and concentration. So, for example, the maturation degree of grapes can be determined by measuring the refractive index of its juice or the alcoholic content of certain beverages. Such a sensor can be applied in the beverage sector for process and quality control, as well as in the environmental sector for water quality control, among other uses, researchers said.