The three basic characteristics of light waves are wavelength, polarization, and direction of propogation. We have been able to filter the light by wavelength and by polarization, but selecting (filtering) light based on the direction of propagation has been a permanent scientific challenge; that is. until March 27, 2014. In a paper published in the journal Science written by MIT professor of physics Marin Soljacic, graduate student Yichen Shen, and four others, the authors describe the creation of a system that allows light of any color to pass through only if it is coming from a specific angle. Light coming from any other direction is blocked. This technique can lead to advances in solar photovoltaic applications, as well improvements in telescopes, microscopes, and other optical systems.
"We are excited about this," Soljacic says, "because it is a very fundamental building block in our ability to control light." The design consists of a set of ultrathin layers of two different materials that alternate in the set. "When you have two materials, then generally at the interface between them you will have some reflections," Soljacic explains. "But at these interfaces, there is this magical angle called the Brewster angle, and when you come in at exactly that angle and the appropriate polarization, there is no reflection at all." The light reflected at each interface is very small, but by combining many layers with the same properties it is possible to reflect most of the incoming light, with the exception of the light coming at a precise angle. "Using a stack of about 80 alternating layers of precise thickness, we were able to reflect light at most of the angles, over a very broad band of colors: the entire visible range of frequencies," Shen says. The materials used at the MIT experiments were thin layers of glass and tantalum oxide, but any two materials with different refractive indices will work as well.
This finding could prove to be useful in the design of new and more accurate optical systems, such as microscopes, telescopes, and lenses. An application mentioned in the article is the design of systems that can view faint objects that are close to brighter objects, like a dim planet next to a star. With the MIT system the light coming only from the angle where the planet is located can be selected. Another application is in computer displays, where light coming from directly in front of the user can be selected. Another technology that can benefit from this technique is solar thermophotovoltaics, a technique that harnesses solar energy by using it to heat a material, which in turn radiates light of a particular wavelength that is directed onto a photovoltaic cell. The MIT system can be used to limit the heat and light energy lost to reflections.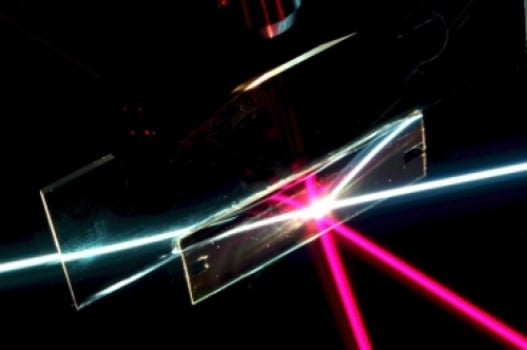 Angular-selective plates allow a beam of white light to pass through, while blocking a beam of red light coming in at a different angle. (The setup is immersed in liquid filled with light-scattering ­particles that make the beams visible). Picture credit: MIT.