A team of researchers has developed what it claims is a transformational technology that could replace batteries in mobile devices and electric vehicles (EVs) with very high energy density supercapacitors.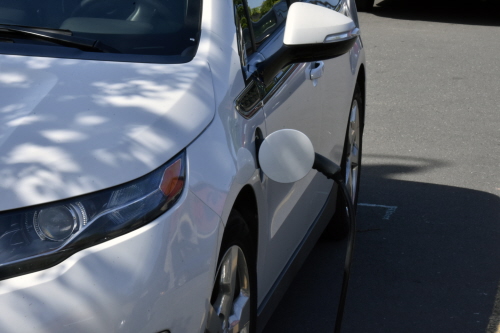 Supercapacitors could allow electric vehicles to be recharged in the time it currently takes to refuel a gasoline-powered vehicle. Source: University of Bristol The research, from the University of Bristol, the University of Surrey and Augmented Optics Ltd., could mean not just an end to the use of batteries in everyday devices, but also creating a technology that could charge mobile devices in just a matter of seconds.
Researchers believe the technology could have a dramatic effect across the transport, aerospace, energy generation and consumer device markets, as well as flat-screen electronic devices and biosensors. It could also make possible the ability to recharge an EV as quickly as it takes to re-fuel a combustion engine. Given that it takes six to eight hours to recharge an EV with current technology, this would be a massive shift in the dynamics of the electric car market, researchers say.
Supercapacitors are seen as an alternate power source to batteries. They store energy using electrodes and electrolytes that charge and deliver energy quickly, unlike conventional batteries that deliver energy much more slowly and in a sustained way. Supercapacitors can charge and discharge rapidly over large numbers of cycles; but because of poor energy density, they have been unable to compete with conventional battery energy storage.
"There is a global search for new energy-storage technology, and this new ultra-capacity supercapacitor has the potential to open the door to unimaginably exciting developments," says Dr. Brendan Howlin, professor at the University of Surrey.
The technology was adapted from the principles used to make soft contact lenses, and is based on polymers that are large organic molecules composed of many repeated sub-units and bonded together to form a 3-D network.
"While this research has potentially opened the route to very high density supercapacitors, these polymers have many other possible uses in which tough, flexible conducting materials are desirable, including bioelectronics, sensors, wearable electronics and advanced optics," says Ian Hamerton, from the Department of Aerospace Engineering at the University of Bristol. "We believe that this is an extremely exciting and potentially game-changing development."