Scientists at the University of Central Florida's (UCF) NanoScience Technology Center have developed a new process to create flexible supercapacitors that could, in theory, replace batteries in smartphones, allowing for charging in seconds without the need to charge it for more than a week.
The new method was tested as being able to store more energy and be recharged more than 30,000 times without degrading. The technology could also be used to power a new generation of electric vehicles, UCF says.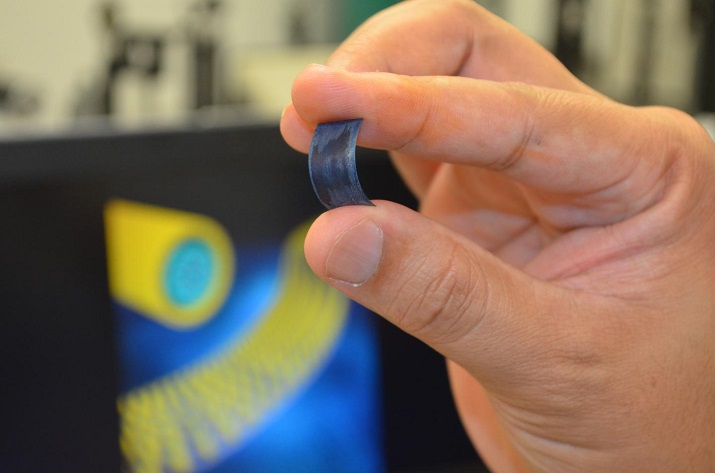 The flexible supercapacitor can be used inside a smartphone or other gadget and can be recharged 30,000 times without degradation. Source: University of Central FloridaThe research began as a result of smartphone batteries holding a charge for less and less time as the battery begins to degrade. Scientists believe that using nanomaterials to improve supercapacitors could enhance or even replace batteries in electronic devices. The issue is that a supercapacitor that holds as much energy as a lithium-ion battery would have to be much larger.
The UCF team has experimented with a way to apply two-dimensional materials only a few atoms thick to supercapacitors, and other research using graphene or other two-dimensional materials has been met with limited success.
"There have been problems in the way people incorporate these two-dimensional materials into the existing systems—that's been a bottleneck in the field," says Yeonwoong Jung, assistant professor at the UCF NanoScience Technology Center and the Materials Science & Engineering Department. "We developed a simple chemical synthesis approach, so we can very nicely integrate the existing materials with the two-dimensional materials."
How It Works
Scientists were able to develop the supercapacitors composed of millions of nanometer-thick wires coated with shells of two-dimensional materials. The core enables fast electron transfer for fast charging and discharging, while the coated shells of the two-dimensional materials yield high energy and power densities.
A typical lithium-ion battery can be charged fewer than 1,500 times without significant degradation, however recent advances in supercapacitors with two-dimensional materials were able to boost this recharge process to a few thousand times. The UCF process yields a supercapacitor that does not degrade—even after it has been recharged 30,000 times.
While the process is not ready for commercialization, the proof-of-concept shows that the new supercapacitors could be used in phones or other electronic gadgets, or even in electric vehicles that could benefit from a sudden burst of power and speed, UCF says.