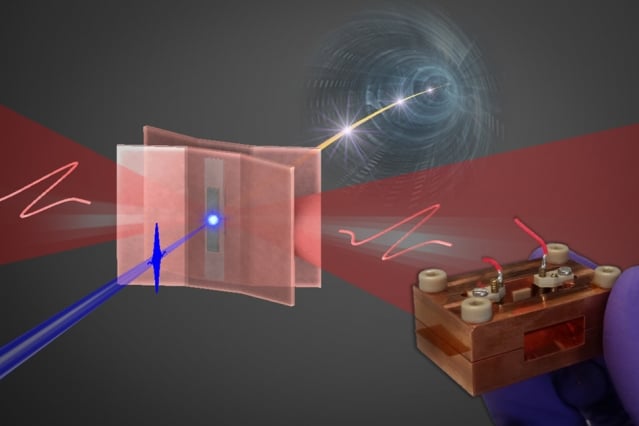 A high-field, optically driven electron gun driven by terahertz radiation could make X-ray movies affordable for researchers. / Photo Credit: W. Ronny Huang Electron guns are important components in scientific imaging by producing ultrashort bursts of electrons to gather information about materials undergoing chemical reactions or physical changes. But current equipment is large—about the size of a car—and expensive. The particle accelerator used to increase the electron's velocity costs billions of dollars.

But a new method of creating electron bursts uses a device about the size of a shoebox and requires a fraction of the power of its predecessors. Developed by researchers at the Massachusetts Institute of Technology (MIT), the German Synchrotron, and the University of Hamburg in Germany, the method could make creating X-ray movies for research accessible and affordable to universities, independent researchers, and private industry R&D departments.
Practical Applications
This technique, called electron diffraction imaging, can help physicists and chemists detect phrase changes in materials, as well as the creation and dissolution of bonds between molecules in chemical reactions. By reducing the electron burst duration to a single femtosecond (down from hundreds of femtoseconds in current equipment), a linear accelerator could generate attosecond X-ray pulses capable of real-time imagery of cellular machinery.

The research complements an approach published last year by a research group from MIT and the University of Hamburg, along with colleagues from the Max Planck Institute for the Structure and Dynamics of Matter in Hamburg and the University of Toronto, which outlines technology to shrink particle accelerators into tabletop size linear accelerators.
How It Works
This new electron gun operates much like a radio-frequency (RF) gun, but uses terahertz radiation—the band of electromagnetic radiation that falls between microwaves and visible light—to accelerate electrons. The matchbox-sized device consists of two copper plates spaced 75 micrometers part. Each plate is bent in two places, creating three distinct walls. The plates are positioned opposite each other, so they're farthest apart at the edges. One plate contains a quartz slide and a 30 nanometer thick film of copper at the center. A short burst of light from an ultraviolet laser strikes the film at its thinnest point to release the electrons, which are emitted on the opposite side of the film. At the same time, a burst of terahertz radiation passes between the plates in a direction perpendicular to the laser. The terahertz radiation accelerates the electrons directly toward the second plate. The tapering of the plates confines the terahertz radiation to that 75 micrometer gap, which is narrower than the terahertz radiation itself. This increases the energy density and accelerating power of the beams.

This configuration enables the use of terahertz beams with power much lower than radio frequency beams used in a typical RF gun and with the addition of some optical components, enables the laser to generate both the ultraviolet and terahertz beams, shrinking the overall size and cost of the machine.