Coto Technology Inc. has released several switch and sensing products based on tunneling magnetoresistive (TMR) technology. The products—all part of Coto's RedRock brand—include the RR110 analog sensor, RR120 digital sensor and RR130 digital switch. With a standard SOT-23 package, these devices are half the size of Coto's CT05 molded reed switch. Coto positions the RR110, RR120 and RR130 as ideally suited to the demands of next-generation medical, automotive, instrumentation and industrial applications. The tiny sensors offer high magnetic sensitivity with high hysteresis, EMF resistance and a small package size, all while consuming little power.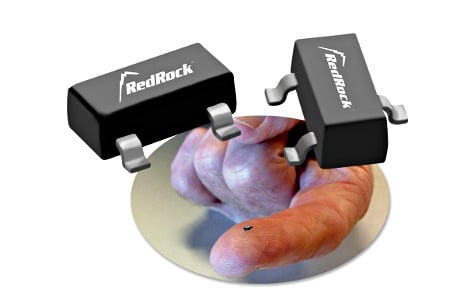 Coto Technology's RedRock RR110 analog sensor, RR120 digital sensor and RR130 digital switch feature the tiny footprint, high sensitivity and low power consumption needed in wearable devices, consumer electronics, medical devices and industrial products where space and power are critical. Image source: Coto Technology Inc. The RR110, RR120 and RR130 meet the strict power constraints of battery-operated portable devices and electronics, suiting the needs of emerging medical device applications, including ingestibles and implantables. The small package size addresses the needs of current medical applications, including portable insulin pumps, capsule endoscopes, next-generation hearing aids, insulin pens, medical wearables and other small, battery-powered medical electronic devices. Other applications include consumer smart wearables, high-precision fluid level sensing, security and anti-tampering, and "wake up" mode switching on a microprocessor.
The Coto Technology RedRock RR110, RR120 and RR130 TMR magnetic sensors and switches are immediately available through Coto's distributors at a single unit price of $2.95 (with high-volume application pricing under 99 cents). An evaluation kit (RR110-EK) is also available through Coto's distributors. The kit—which contains a motherboard, both an RR110 and RR120 mounted at opposite ends, a magnet and other accessories along with documentation—sells for $49.95 in single-piece quantities.
For more information on RedRock sensors and switches, visit www.cotorelay.com or email redrock@cotorelay.com directly.