MultiDimension Technology Co., Ltd. (MDT) has launched a trio of tunneling magneto-resistance (TMR)-based magnetic sensors for which the company claims the lowest noise and highest sensitivity of any semiconductor-based magnetic sensors, including those based on anisotropic magneto-resistance (AMR), giant magneto-resistance (GMR), and Hall effect.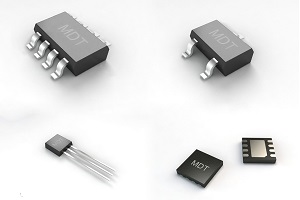 MultiDimension Technology's TMR9001, TMR9002, and TMR9003 tunneling magneto-resistance (TMR) magnetic sensors. Image source: MultiDimension Technology Co., Ltd.
MDT considers the TMR9001, TMR9002 and TMR9003 to be well suited to high-end industrial sensor applications, bio-medical sensor applications, and precision measurement of weak magnetic fields or low current levels, metal object detection, non-destructive testing, magnetic communication and room temperature magneto-cardiography (MCG).
The devices utilize four TMR sensor elements arranged in a push-pull Wheatstone bridge configuration. Sensitivity within the product series ranges from the TMR9003's 30 mV/V/Oe to 300 mV/V/Oe for the TMR9001, while the field level at which saturation occurs ranges from ±4 Oe (TMR9001) to ±15 Oe (TMR9003). Noise levels range from 150 picoTesla /√HZ (TMR9001, TMR9002) to 750 picoTesla /√HZ (TMR9003).