In the UK, plastic money is now the real deal. A free online design program for drone enthusiasts. And a simple tap test may help pipeline companies find cracks and other flaws. Here's your weekly news brief.
Plastic banknotes for the UK
In the UK, plastic money is now the real deal. The Bank of England has rolled out a polymer 5 pound note, with the 10 pound note to follow in the summer of 2017, and a 20 pound note by 2020. The polymer banknotes are manufactured from a transparent plastic film coated with an ink layer that enables it to carry the printed design features of banknotes. The material allows the inclusion of "windows," or clear portions in the design that enhance protection against counterfeits. The Bank says the notes are more durable and more secure than paper and will increase the quality of banknotes in circulation. Because the new notes are resistant to dirt and moisture, more hygienic and machine washable, they'll stay cleaner and have a longer lifecycle, more than 2.5 times longer, than paper banknotes. The fact that they're recyclable also makes the polymer notes more environmentally friendly than previous versions.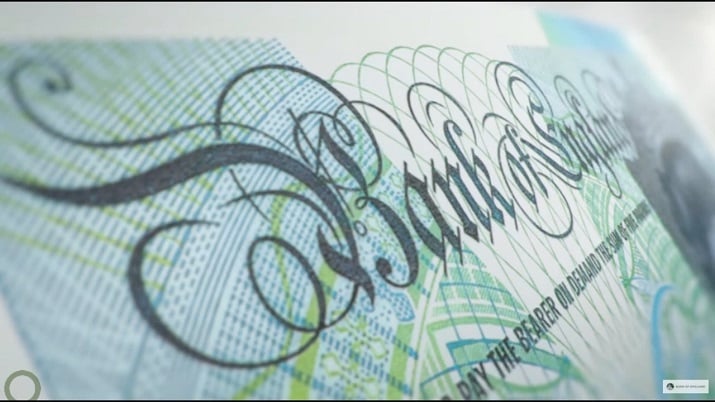 Download this drone design software
A Utah State University researcher has created a free online 3-D design program that generates aerodynamic data for aircraft design. Doug Hunsaker, an assistant professor of mechanical and aerospace engineering at USU, says the software program, called mock up, offers aerodynamic information about a user's aircraft design. The program operates on multiple browsers and on many platforms including smartphones and tablets. The site also features training tutorials and how-to videos. According to Hunsaker, the software will give startup drone companies the tools needed to design efficient and safe small autonomous aircraft. Mock up lets users design an aircraft while the software calculates aerodynamic information about that design, subsequently generating lift, drag, stability, and trim data for any design that's put into it.
Vibration test for pipeline maintenance
A simple vibration test can help oil and gas companies locate rust or cracks in pipelines more quickly and cheaply than conventional imaging techniques. That's according to a study by the University of British Columbia. An assistant professor of engineering developed the pipeline "tap test" after first evaluating its validity on human bones. Research found that imperfections in above-ground pipelines could be found by attaching small machines to the side of a pipe that tap and measure the resulting vibrations against those predicted by computer models. After developing the mathematical platform and entering it into a computer, the researchers can predict what the level of vibration should be if the pipeline that is being tapped is free of imperfections. The test had also proven useful in identifying areas of deficient bone density, which could be helpful in identifying conditions such as osteoporosis.