Nano-computing has been the work of science fiction for many years. The ability to shrink technology down to a microscopic level, where these tiny machines would be able to do the work of much larger devices, has long been considered a way to potentially change the fields of healthcare, robotics and more.
Science fiction or not, those in the research community have continued to work toward infinitesimal computing for decades; more recently, demand for this new type of computing is seen as a needed step toward enabling faster, smaller and more energy-efficient devices.
Now, researchers at the University of California, Santa Barbara (UCSB), have developed a functional nanoscale computing device that involves a dense, three-dimensional circuit operating on an unconventional type of logic that could be packed into a block no bigger than 50 nanometers on any side.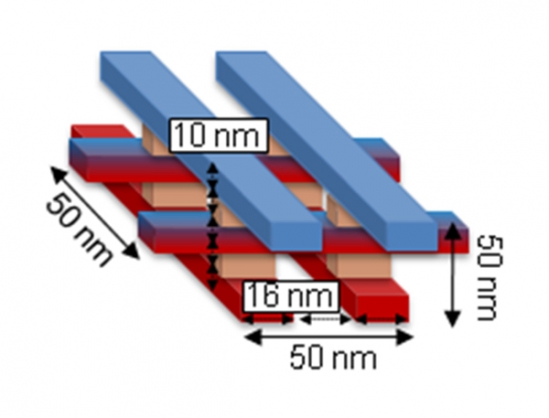 Structures with stacked memristors could be packed into a space operating in a 50 × 50 × 50 nanometer dimension. Source: UCSB The key to UCSB's nanoscale computing device resides in its use of a logic system called material implication logic combined with memristors—circuit elements whose resistance depends on the most recent charges and the directors of those currents that have flowed through them. Researchers say that unlike traditional logic and circuitry, this form of computing, logic operation and information storage happen simultaneously and locally.
The result is computing that reduced the need for components and space typically used to perform logic operations and the need to move data back and forth between operation and memory storage. Instead computation is stored immediately in a memory element, preventing data loss in the event of power outages. Such technology is seen as a necessary component for functions of autonomous systems such as robotics, UCSB says.
The device also takes advantage of space by reconfiguring the two-dimensional architecture of the memristor into a three-dimensional block, which could then be stacked and packed into a space operating in a 50 × 50 × 50 nanometer dimension, researchers say.
"In a regular computer, data processing and memory storage are separated, which slows down computation," says Gina Adam, postdoctoral researcher at UCSB's Department of Electrical and Computer Engineering. "Processing data directly inside a three-dimensional memory structure would allow more data to be stored and processed much faster."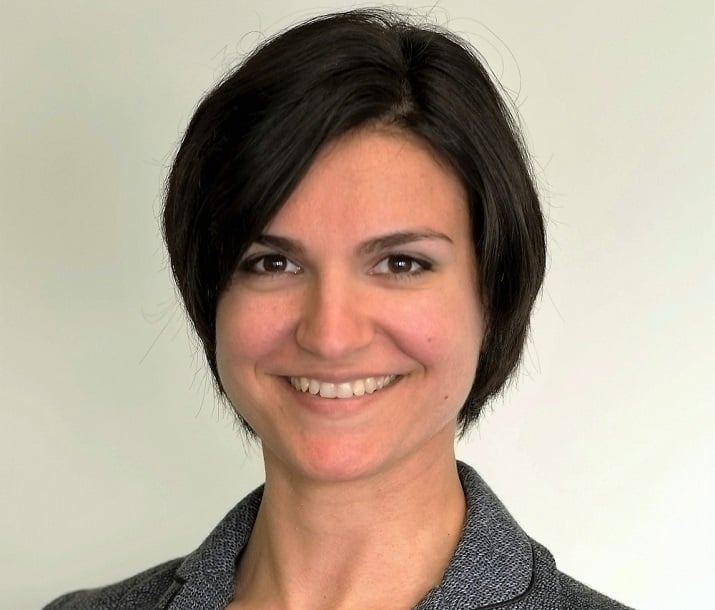 Gina Adam is a postdoctoral researcher at UCSB's Department of Electrical and Computer Engineering. Source: UCSB Tiny memristor research has become a popular subject in academia because of its promising uses in memory storage and neuromorphic computing, UCSB says. While this research is in its very early stages and not yet mainstream, in the future it could revolutionize energy-scarce systems, such as medical implants and robotics.
"Since this technology is still new, more research is needed to increase its reliability and lifetime, and to demonstrate large-scale, three-dimensional circuits tightly packed in tens or hundreds of layers," Adam says.