UK Autodrive partners Jaguar Land Rover, Ford and Tata Motors European Technical Centre (TMETC) successfully demonstrated prototype-connected and autonomous-vehicle technologies.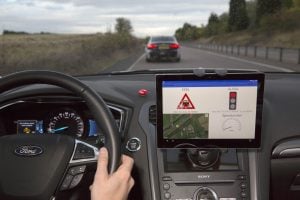 As a Jaguar ahead brakes suddenly, a Ford test driver gets a "brake lights ahead" warning, potentially preventing a collision.

The demonstrations marked the culmination of several trials as part of the UK Autodrive project, and represent the first major milestones of the three-year project designed to bring autonomous and connected cars and pods to UK roads.
Technology to Reduce the Risk of Rear-End Collisions
The first of three demonstrations showcased connected cars that can warn the driver when another connected vehicle ahead stops short. The technology can reduce the risk of rear-end collisions, especially during times of poor visibility, such as when driving on foggy roads, or at sunset when glare can reduce visibility.
Green Lights Ahead
Imagine driving down a road and the traffic lights seem to change to green just for you. It may not be a dream, with new connected-car technology that receives data from traffic lights and then tells the driver the correct speed to drive to avoid red lights. This can improve traffic flow and gas mileage while reducing emissions in congested areas.
Technology Detects When It Is Safe to Pass
In the third of three demonstrations, a Jaguar Land Rover showed how a self-driving vehicle could safely pass a slower-moving vehicle, overriding the pass request if it detects a vehicle in the occupant's blind spot. This technology could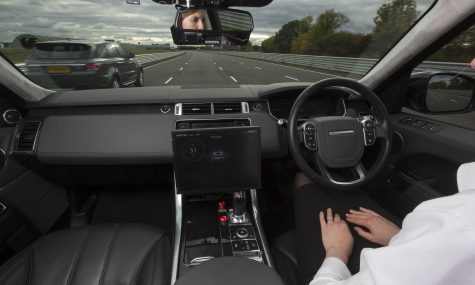 Jaguar's self-driving vehicle knows when it is safe to pass.eliminate the frustration of drivers wondering if they should or shouldn't pass a slower-moving car and prevent accidents that sometimes occur during lane changes.
Self-Driving Cars by 2018
The UK Autodrive project has the goal of integrating autonomous and connected vehicles into urban environments to alleviate problems like traffic congestion and accidents. Trials and demonstrations will continue at HORIBA MIRA in spring 2017, and move to closed roads in late 2017. UK Autodrive leaders aim to demonstrate the technology on open roads in Milton Keynes and Coventry by 2018, ideally leading to consumer adoption of the technologies.