While the prospect of Artificial Intelligence (AI) taking over jobs previously performed by humans—or even overtaking mankind itself—may seem scary to some, three researchers at the Massachusetts Institute of Technology (MIT) take the idea of AI horror a bit more literally. Pinar Yanardag (post-doctorate, MIT Media Lab), Manuel Cebrian (principal research scientist at CSIRO Data61), and Iyad Rahwan (associate professor at MIT Media Lab) created an AI project that uses complex, deep-learning algorithms to identify imagery that scares viewers—and then create more of the same.
What Makes a Face or Place "Scary?"
Launched just in time for Halloween, the MIT Nightmare Machine, as it is called, asks viewers to vote on which images are the scariest and then generates even more scary faces. The website showcases some of the scariest AI-generated haunted houses and toxic cities. The photos in the gallery include scary versions of Capitol Hill, the Statue of Liberty and the Eiffel Tower, with blackened skies and inky shadows.
Technology That Taps into Our Deepest Fears
The technology that creates the imagery is based on an algorithm developed by Leon A. Gatys, Alexander S. Ecker and Matthias Bethge, designed to identify and develop specific artistic styles. But the implication of using such algorithms to create scenes of horror, rather than beauty, has some people concerned. "The test is actually very serious and disturbing, because it basically consists in teaching a machine to learn what are our deepest fears and how to take advantage of them," writes Forbes contributor Federico Guerrini.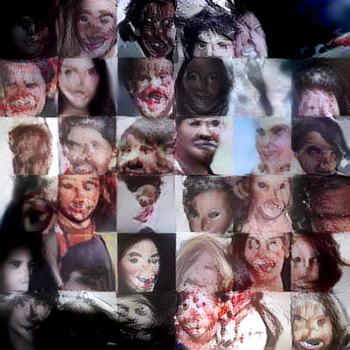 But, as the Nightmare Machine website points out in its brief history of horror and AI, combining the two is nothing new. According to the MIT Media Lab, the first sentence typed by an AI program back in 1956 may have been "Trick or Treat."

And while many people enjoy a good scare from the safety of their computer screen, it is more than just Halloween fun for the MIT researchers. The team is using the Nightmare Machine to test the limits of AI programming and its ability to elicit visceral reactions from human beings.

Is the concept sinister, or purely for the good of scientific development? Time will tell.