Last October, MIT's Media Lab launched the Nightmare Machine, artificial intelligence-powered horror imagery. This year the lab has cooked up a new way to scare humans — meet Shelley, billed as the world's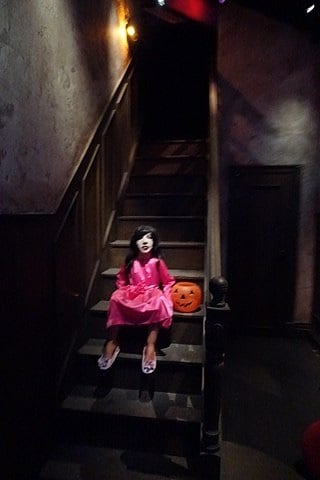 Halloween Horror Nights - American Horror Story. Source: Wikimedia/ CC BY 2.0 first collaborative AI horror writer.
Shelley — named for Mary Shelley, author of "Frankenstein: or, The Modern Prometheus" — can create her own stories using a small piece of text. Her creators trained her artificial neural network to understand horror stories by feeding her 140,000 stories sourced from Reddit's r/nosleep forum. Shelley tweets the first line or so of a story once an hour and invites her fans to supply the next sentence. The collaboration grows from there, producing stories with varying degrees of scary stuff. And Shelley learns from each collaboration.
Why not train Shelley with classic stories from Stephen King or Poe? In addition to copyright issues, there is not enough text to create an adequate training set for her voracious artificial mind.
Here are a few of Shelley's first lines. Follow the link to read the associated stories.
-I looked back to my Grandmother, and I was creeped out. I had a feeling in my gut that something was wrong.
-It looked at me and said something to me that I couldn't even look away from. "It's time, Tim."
-I was on to the bed and falling asleep until a hand reached out and grabbed my face. I could feel the blood draining from my face as it started moving closer. I tried to scream but nothing would come out.
The team behind Shelley works together in the Media Lab's Scalable Cooperation group. Project lead Pinar Yanardag, research manager Manuel Cebrian and associate professor Iyad Rahwan conceived the project as a way to learn how machines evoke emotional responses.
"The rapid progress in the field of Artificial Intelligence (AI) has people worried about everything from mass unemployment to the annihilation of the human race at the hand of evil robots," wrote Rahwan in response to a question from Quartz author Thu-Huong Ha. "We know that AI terrifies us in the abstract sense. But can AI scare us in the immediate, visceral sense?"
Want to follow Shelley and perhaps collaborate? Here is a link to Shelley's Twitter page. Be aware that some of Shelley's training set includes adult content, and that Shelley's inventiveness is unlimited.