Crocus Technology, a developer of tunneling magneto-resistive sensors, has announced the availability of the CT51x digital switch, the first in a series of fully integrated digital sensors. This family of devices accommodates a wide range of applications with larger air gaps, smaller magnetic fields and significantly lower power consumption.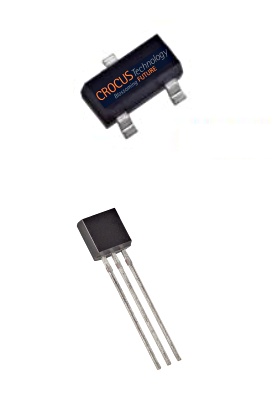 Crocus Technology bills its CT51x family of tunneling magneto-resistive switches as a robust alternative to Hall-effect and mechanical reed switches. The switches come in SOT-23 (upper device in this photo) and TO-92 (lower device) packages. Image source: Crocus Technology, Inc. According to Crocus, the CT51x enables high-accuracy position detection, control and power-switching functions with high sensitivity and reliability that system designers demand for today's Internet of Things, and consumer and industrial applications.
When used as a proximity switch, the CT51x detects window or door movement in intrusion alarm systems and appliances. The digital switch can also activate wake-up and sleep modes in mobile devices such as laptops, that have lid-open/closed detection with extremely low power consumption (current draw less than 350nA, on average). The CT51x measures rotation speed in battery-powered smart flow meters, and can act as a safeguard against tampering in smart utility meters where annual losses surpass a billion dollars.
Fully integrated with the CMOS process to create a completely monolithic solution, the Crocus CT51x family of devices is in production and available in different output configurations, and in JEDEC standard SOT-23 and TO-92 packages. These products can be ordered worldwide through Crocus Technology's authorized distributors: Future Electronics, Mouser, Comtech and Weikeng International.