It sounds far-fetched, but the idea of robotic tutors in primary school classrooms could be closer than we think, based on research published in the open access journal Frontiers in Computational Neuroscience.

Doctor Imbernòn Cuadrado and others at the Department of Artificial Intelligence in Madrid have developed an integrated computational architecture (ARTIE) for use with software applications in schools. The architecture can help educational software applications detect the emotional state of primary school children to make pedagogic interventions with a robot tutor.

Students already use a number of online resources, from computer-based testing to distance learning, to enhance their learning. But a computer cannot tell when a student, for instance, is getting frustrated because he or she does not understand the material. With applications that can detect a student's emotional state, robot tutors can better assist teachers in small groups or one-on-one classroom settings.

Software Detects Cognitive States in Schoolchildren for Appropriate Interventions

The researchers focused on three cognitive states that influence learning: concentrating, distracted and inactive. The software used keyboard strokes and mouse actions to identify the cognitive state of the child, and then linked to an algorithm that would choose the correct form of pedagogic intervention. For instance, interventions could include specific words, gestures of encouragement, or other actions that would attempt to raise interest and motivation to achieve a specific learning objective. A robot tutor could deliver these interventions.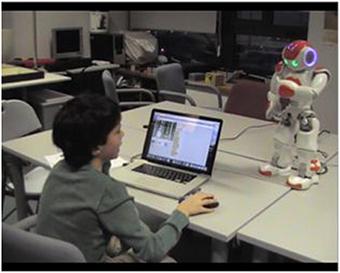 A student completing tasks on a computer receives feedback from a robotic tutor. Image Credit: Luis-Eduardo Imbernòn Cuadrado, SOPRA Steria, Madrid, Spain

In the Frontiers research article, Cuadrado and co-workers describe an example of a robotic tutor platform, MONICA, that integrates the educational software Scratch to a commercially available robot through the computational architecture developed in their paper. Two primary school volunteers in different cognitive learning states then worked with MONICA. They reported that they enjoyed having a robot guide their learning rather than working alone, but they felt they would have learned more with a human teacher. The students said they felt more relaxed with the robot tutor.

The Future of Learning?

Future research will focus on implementing methods using cameras and microphones to detect a more complex range of emotions, and then test the longer-term effect of robotic tutors on children's learning curves, according to Cuadrado.
While robots will not actually replace human teachers for quite some time—if ever—they can enhance the learning experience, give students extra help and personalized attention, and make it easier for a teacher to successfully meet the needs of 20 or more students at a time.