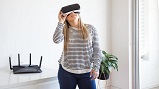 NETGEAR®, Inc. has introduced the Nighthawk X10 AD7200 Smart WiFi Router, reportedly the industry's first —and fastest— router for media streaming and instant backup.
The Nighthawk X10 Smart WiFi router combines a 1.7 GHz Quad Core processor — the fastest processor in a home router — and Quad-Stream Wave 2 WiFi architecture, plus next generation high speed 802.11ad WiFi, supporting wireless speeds up to 7.2 Gbps. The latest MU-MIMO technology supports simultaneous streaming, while 160 MHz doubles WiFi speeds to mobile devices. Four patent-pending external Active Antennas amplify Nighthawk X10 WiFi signals to maximize range and throughput.

The Nighthawk X10 supports Plex Media Server with transcoding for ultra-smooth 4K streaming, even to remote devices. The Nighthawk X10 is the industry's first router to run Plex Media Server without the need for a computer. Compared to storing video content on a PC, Plex Media Server with Nighthawk X10 Smart WiFi router is easy to set up and always on.
NETGEAR Nighthawk X10 is also the industry's first router designed for the home market that includes a 10Gigabit port, which supports a fiber connection. The router has a 10 Gigabit fiber port that offers fast backup and streaming from Network Attached Storage devices, suiting it for personal HD video collections. The two USB 3.0 ports make it easy to add storage for backup and file transfer over WiFi.
The router is priced at $499.99.